08 November, 2022
How to Start a Small Business From Home in the UK: Ideas and Growth Advice
Don't know how to start a small home business in the UK but have inspiration for it? Then get comfortable and read our guide on how to do it. We will also share seven examples of the most profitable business areas suitable for sole traders.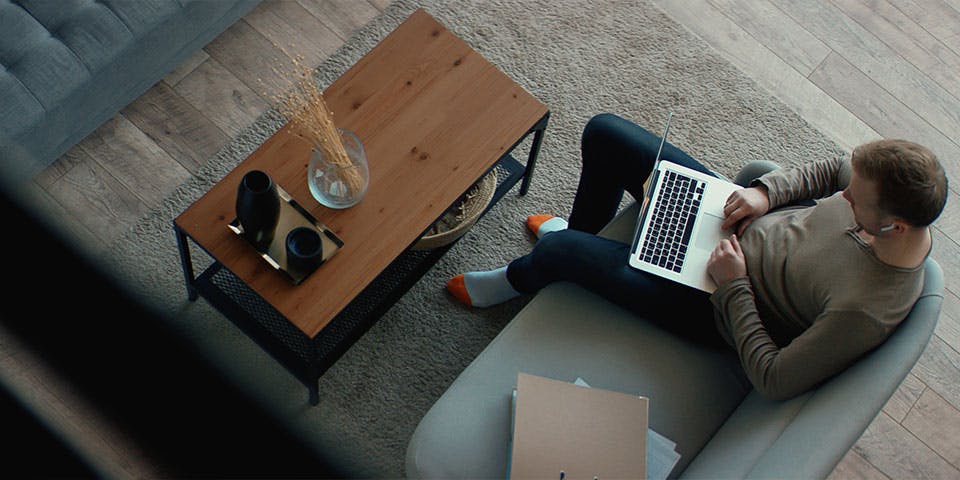 You can also get more information about setting up as a sole trader on our site.
Starting a Small Business from Home: Is It a Good Idea?
Despite the pandemic, Brexit, and other negative circumstances, over the past few years, small businesses still make up 99.9% of the business population of the United Kingdom and play a crucial role in national economics. In particular, despite the Brexit-related decline in the number of small businesses by 6.6 percent p (compared to 2020), modern entrepreneurs strive to find new ways to renew their former incomes and conquer the domestic market.
If you are thinking about starting a small business from home, now is the ideal time for this. Because of the events described above, competition in the local market has slightly decreased. So if you're ready to begin the exciting journey of realising your ideas before the SMB sector of the UK becomes  saturated, find out how to start a small business from home in the following article.
What Should You Know Before Starting a Small Business in the UK from Home?
In fact, for your small business at home, you may need some permissions and insurance. As for the first option, you need to check if you need permission from your landlord (if you rent apartments where you plan to do business), as well as the local planning office (for possible redevelopment of your property) and council (for offline advertising outside of your property).
As for insurance, beyond health and safety plans, you need to consult with one of the representatives of the British Insurance Brokers Association (BIBA).
Now let's talk about taxes. To avoid getting caught up in bureaucracy, you can include your business expenses on your self-assessment tax return, or you can use a flat rate to calculate simplified allowable expenses.
Find more information about how to run a small business from home right here.
Do you need a license to run a small business from home in the UK?
For starting a small business from home in the UK, you do not need a license, except for the following business types:
loans and financial services;
import and export;
cargo transportation services;
taxi;
betting;
childcare;
sale of pet supplies and pet care;
security services;
sports coaching;
invasive cosmetology services, etc.
Step-by-Step Guide on How to Start a Small Home Business in the UK
Now we recommend you check our guide on how to start a small home business.
Register your business name
Suppose you already have some idea for a business and a unique selling proposition that will help you effectively position it in the local market. First on our checklist is the registration of the business name. 
You will have to come up with a unique name for your business. After that, you will need to contact HMRC and report the tax payment through Self Assessment. This is an annual commitment. You can find out more about how the registration process works here. Also, you can find high-quality services for virtual company registration in the UK here.
Write a business plan
The main purpose of creating a business plan is to evaluate the prospects of the project, realise the necessary resources, and discover the pitfalls that you will face that may interfere with the implementation of your business.
A business plan is needed for both internal and external use. In the first case, it will be used as a tool for managing and developing your idea. In the second case, it will become the starting point for attracting investments from outside.
Find funding 
To start looking for funds and create a brand, you first need to calculate the possible costs (inventory, registration, insurance, advertising, etc.). In terms of funding sources, it can be your own savings, a bank loan, grants for small businesses, or government funding programs for new companies (in particular, the Start-Up Loan, implemented by the British Business Bank).
Choose an advertising strategy
Now you need to decide how you will promote your unique selling proposition (USP). First, you will need to find out how your competitors do that and then develop a promotion strategy based on this information. The most typical promotion methods are social media marketing (SMM), launching your own website and its search engine optimisation (SEO), flyers and print marketing, and affiliate programs.
Buy business insurance
Depending on your business type, you may need different insurance plans. In addition to insurance against losses, you may also need insurance against everyday risks (accidents, lawsuits, damage to inventory, etc.). Small business owners typically purchase the following insurance plans:
Civil liability insurance (if you plan to host clients at home or visit them to provide your services).
Professional liability insurance (if you want to protect yourself from the risks associated with the incorrect provision of services that caused losses on the client's side).
Employer's liability insurance (if you are going to hire employees).
Legal expenses insurance (if you want to protect yourself from possible lawsuits and proceedings, as well as from the costs associated with legal assistance).
Small business health insurance (if you want to protect yourself and your employees from the costs of medical services).
Find out what you need to do for tax
The tax-free allowance is £1,000, but once it is exceeded, you will be required to register with HMRC or Companies House. After that, you will have to file an annual self-assessment tax return in order to start paying income tax on your business.
Choose the correct business guide
The last point of our checklist on how to start a small online business from home is the choice of the business guide. This is especially useful if you have never worked for yourself before. You can research business literature or seek the help of a trusted business consultant.
Find out more information on how to set up an online business in the UK here.
What Small Business Can I Set Up at Home in the UK: 7 Great Examples
After checking our guide on how to start a small home business, you may need some great examples of its implementation. Perhaps they will inspire you to create a different type of business than you planned previously. Thus, it's a great time to consider the best ideas for starting a small business from home in the UK.
Website consulting
Nowadays, every new  company has its own website. If you understand how to implement SEO, you can start making money from it. In particular, you can offer your services for the complex development of your clients' websites to help them reach the top positions in the search engine results for selected queries. Thus, your customers will receive a steady increase in organic traffic and their profits, and you will discover a new source of income.
Herb farming
If you know how to grow plants, you can start making money from this. In particular, herbs are often used in decorating and crafting. If you like working in the garden and think that your skills will be enough to sell the grown herbs online, it is a perfect chance to create your own business.
Cleaning services
Cleaning services are a great choice if you don't want to work a normal eight-hour day on a regular job. You can provide niche services like window cleaning or carpet cleaning, or you can expand your reach and become an all-round professional. This is a fairly well-paid job, and with positive recommendations, your client base will begin to grow rapidly. Therefore, this type of business can be considered one of the easiest to enter and the most profitable.
Decorating
Selling decor or decorating are two of the business niches that are pretty accessible to start-up entrepreneurs who do not have significant initial capital and certain qualifications. Decorative items for the home are in high demand. Although these are not things considered to be necessary, people buy them to transform their homes, make their stay more enjoyable, and add cosiness and style to the interior. Such products are also often purchased as a gift, which means that you will not be left without money throughout the year.
Coaching
There are dozens of types of coaching: family, art, business, educational, and others. To become a coach, you need to have some secondary or higher professional education, plus additional education in the field of coaching. Thus, you will share your expertise in a specific area with less experienced people and get paid for it. However, keep in mind that you will also need public speaking skills for live sessions.  
Computer Repair
Although almost everyone now has computers and laptops, most people are basic users who can only interact with default-installed applications. Therefore, when the user needs something more, for example, reinstalling the operating system or something related to the incorrect functioning of the physical elements of their personal devices, they are always looking for specialists. If this is your field of expertise, this may be a sign to start your own computer repair and software installation business.
Personal shopping assistance
Even though most of the population of the United Kingdom has a high solvency rate, not every citizen of this state has excellent aesthetic taste. If your friends and family often comment on how gorgeously dressed you are, think about turning your dressing skills into a source of income.
Obviously, in addition to the above seven types, dozens of others can be started at home. Therefore, if you have a thirst to fulfil your childhood dream or to follow the beaten path of your profession but without an employer, starting a small business in the UK from home is a perfect way to do so!
Consider The Hoxton Mix Your Trusted Partner 
Now you know how to start a small at-home business and strive to resolve issues related to its registration as soon as possible? Or do you want to buy an address for business in a select location? The prestigious neighbourhoods of London are perfect for this! With Hoxton Mix, it's very cheap and fast: it takes only ten minutes to process registration requests and costs from £0.41 per day! As you can see, this is an affordable service, even for beginner entrepreneurs!
With a London business address, you will gain credibility among your clients and competitors without significant financial outlays and unnecessary bureaucracy. If you are ready to start your home-based business right now, contact us to get a prestigious business address in London.
Also, to get the full picture of how to set up a business from home, we highly recommend you check the main disadvantages of using your home address for business.
FAQ
What business can I set up at home in the UK?
There are hundreds of options for setting up a small business from home in the UK. However, we want to highlight the following: Website Consulting, Herb Farming, Cleaning Services, Decorating, Coaching, Computer Repair and Personal Shopping Assistance.
Can I run a business from my home in the UK?
To start a small business from home in the UK, you may need to get permission or specialised insurance. In addition, you will have to find out if you are required to pay business rates.
What is the most profitable small business in the UK?
According to statistics, representatives of small businesses and, in particular, businesses from home get the largest income in the retail and wholesale sectors.
Hand-picked related articles
Our meeting rooms are located at our Paul Street office,
and it's just a few minutes walk from Old Street tube station…
Our Address
3rd Floor, 86-90 Paul Street,London,EC2A 4NEDirections
Opening hours
Monday - Friday 9am - 18.00pm