10 January, 2022
How to Set Up an Online Business in UK: Practical Guide
The e-commerce market is booming in the UK, and its future is blindingly bright. In 2008, about half of Brits made purchases online - but by 2020, that figure had grown to 87%. E-commerce doesn't show any signs of slowing down in Britain, so if you haven't already got in on the action, it's time to start!
In this guide to starting an online business in the UK, we'll touch on every important facet, including regulation compliance, market research, website building, and SEO. You'll also get a rundown of the start-up costs you'll be facing. 
How Is Starting Your Own Online Business in the UK Different to Starting a Regular Business?
Starting any kind of business can seem daunting — but an online company is significantly easier, faster, and more affordable to launch than a physical one. 
First, let's take a look at the costs. We'll give you a rundown later in the guide with cost estimates for various e-commerce expenses. But for now, we mainly want to focus on how the budget for an e-commerce business differs from a physical retail budget.
Initial Setup Costs: A bricks-and-mortar retail space requires a large initial investment. You have to pay for a rental space, site approvals, licence fees, employees, insurance, fixtures and decorations, construction, an interior designer, and a POS system. But with an e-commerce business, all of that is unnecessary. Instead, you'll be paying for web hosting and design, alongside payment processing fees. Overall, it is much more affordable. 
Marketing: Marketing is important for physical businesses but even more so for digital ones. A bricks-and-mortar store can benefit from a premier location: plenty of foot traffic in the area leads to organic visitors. But if you go the online business route, you're just one out of thousands within your niche, meaning it's much harder to get organic traffic if you don't focus on marketing. 
Employees: Physical retail is labour-intensive and requires lots of employees. You have to account for managers, cashiers, customer service, and so on. But with an online business, you need far fewer employees; in fact, you can even run the entire thing by yourself until you're ready to expand.
Availability: If you start a physical business, it likely has limited hours: for instance, Monday to Friday from 9 a.m. to 4 p.m. But online businesses are always open and taking orders 24/7. 
Crime: Offline businesses have to deal with physical crime, whereas online businesses only have to worry about online security. 
Regulations: There are special rules you'll need to follow if you're selling goods online; we'll cover them later in this guide. 
What to Know Before You Start an Online Business in the UK
If you have a great business idea, you might be tempted to rush to your computer and try to set up a company online. But we recommend slowing down and considering a few things first, as this will save you a lot of stress in future. 
Be Familiar With Local Laws and Regulations
Which legal status will apply to you? Will you register as a sole trader, a partnership, or a limited company? And if you are planning on selling overseas, you'll need to check the VAT and exporting rules for your products. 
Decide Where You Will Work
Do you have a space allocated to conduct your business? Will you rent an office or work from home? Do you need a virtual business address so you can create a separate bank account? If so, where should the address be located? For a virtual office in London, you could try out a monthly plan from Hoxton Mix.
There are a lot of things to consider, but you don't have to try to figure things out on your own. Read on for a step-by-step guide; we've broken the whole process down into manageable chunks. 
Digital Service Considerations
Are you going to sell downloadable items or a streaming service? If so, you'll need to follow certain rules. 
Step-by-Step Guide to Starting Your Online Business in the UK 
Conduct Market Research
First things first, you'll need to come up with a great idea for an online business. One way to start mind-mapping is to choose a task or product and ask, "How can I make this task easier?" or "How can I make this product better?" For instance, Netflix was created so people could watch movies without having to go to the video store; DVDs were mailed directly to their homes. Their individual business idea was all about making a task easier and more convenient, which is why it was so successful. 
After choosing the type of business, it's time to test the market via competitor analysis. This helps you learn all about your competition and find things that you can do better than them; furthermore, it helps you learn about industry trends and make sure your company is meeting or surpassing current standards. To perform a competitor analysis, you'll need to:
Determine who your competitors are.
See the product they're selling. 
Check out the competitors' sales strategies and results. 
Check out their pricing, shipping costs, and offers. 
Look at how they market their products. 
Read up on the content on their website. 
Take stock of their level of customer analysis. 
Look at their social media presence and engagement. 
Competitor analysis will help you set standards for yourself, as well as determine who your target audience is (businesses vs. consumers, demographics, location, etc.)
Then, you can do a competitive product analysis, in which you compare your product to those of your competitors. You'll create a comparison of pricing and key features, pinpoint differences, and look for gaps in the market. 
It can also help to get feedback on your start-up idea and business plan, so you know if it's ready to bring to the table. There are lots of ways to do this — it can be as simple as asking a personal mentor or more complex, such as organising a focus group. One popular tactic is to set up a Google Consumer Survey and gather decision-driving insights. 
And lastly, don't forget the fun part: naming the business!
Choose Your Business Model
There are several kinds of e-commerce business models to choose from, with some being more appropriate depending on your target audience — which is why it's crucial to define your audience.
The models are as follows:
Direct to Consumer (D2C): You can cut out the middleman and ship products directly to consumers. 
White Label/Private Label: With a white label business, you'll purchase a generic product from a distributor and apply your name and branding to it. With private labelling, you'll hire a manufacturer that will create a unique product for you to sell. 
Wholesaling: When following this model, you'll offer your products in bulk at a discounted price. 
Dropshipping: This is one of the fastest-growing e-commerce business models. Essentially, you sell items that are fulfilled by a third-party supplier. You handle the marketing, and the supplier takes care of inventory, storage and shipping. 
Subscription Service: You can offer monthly subscription boxes full of themed products or charge a monthly fee for access to online resources. 
Set Up the Company in Compliance With Regulations
There are special regulations that apply to selling goods online. According to Gov.UK, you'll need to provide your email address, clearly display delivery options and costs, let customers know which languages are available, make the steps for placing an order clear, and more. There are even more rules that apply to selling downloads and digital services — so we highly recommend studying these regulations. 
When setting up an online business in the UK, you'll decide whether you want to register as a sole trader, limited company, or partnership. If you're running things solo, you'll want to go with a sole trader or limited company: the former is simpler, but you're responsible for any business debts. With a limited company, finances are separate. If you'd like to create a business bank account, you'll need a business address. How to get a virtual address for a business? The best way to get one while working from home is through Hoxton Mix's virtual address service. 
Besides being convenient for banking, a virtual business address helps you keep your personal address private from customers, suppliers, and other third parties. What's more, it helps with business registration: when setting up a limited company with Companies House, a registered office address is required.  
Build Your Business Website
There are three ways to build a business website: do it yourself from scratch, use a website builder, or hire a developer. Using a website builder is a popular method of setting up an online business for new business owners, as they offer the easiest path towards developing a site at an affordable price. 
According to The State of Website Builders, these are the leaders in the industry: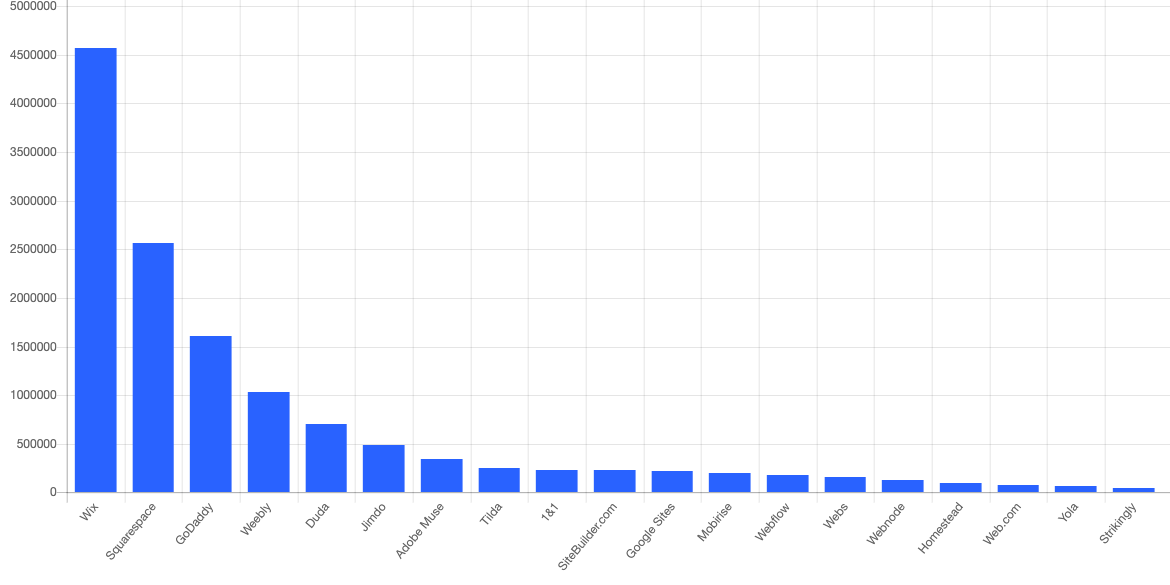 Add Content to the Site
After you've added your products to your online store, we recommend setting up a blog ASAP. A business blog is a great way to get organic traffic; businesses that blog get, on average, 55% more visitors. And you can use your posts as a chance to talk about your products. 70% of people prefer learning about companies via articles rather than ads! 
Don't Forget About SEO
Don't let your website join the "Google Graveyard," so to speak. If your site isn't ranking well for keywords related to your niche, it's going to be hard for you to get traffic. The average click-through rate for the first result on a Google search is 30.52%. The second site gets 12.76%, and then it drops down to just over zero per cent pretty quickly. 
A solid SEO strategy is key to getting your website to show up in the first few search engine results. This includes researching your keywords and implementing them strategically, getting high-quality backlinks, and optimising the site's performance. 
And there you have it! By following the guide, you'll have selected a product and determined your unique selling proposition, set up a website, and helped improve the exposure of your business through SEO techniques. 
So, now that you know how to start an online business in the UK, how much can you expect to spend along the way? We'll examine that next. 
What's the Cost of Starting a Business Online in the UK?
Here's a table of what you can expect to spend:
Business Licence Application Fee: £210
Web Hosting Cost: £5-£50/month
Web Design Cost: £2,000-£10,000
E-Commerce Platform Cost: £30-£300/month
Payment Processing Cost: 2% - 3% fee per transaction
Inventory: Varies; £0 for dropshipping, £1,000+ for buying your own inventory
Marketing: Varies; set aside approximately 10% of your budget
Consider Hoxton Mix Your Trusted Partner
At Hoxton Mix, you can get a London virtual office, making it more convenient to register as a limited company, create a business bank account, and keep your personal address private from third parties. If you want a prime London business address without burning through your budget, our plans start from £15 per month. You can set up your virtual office for your web design business ( as well as any other) in just a few minutes! We've helped thousands of businesses start their journeys, and we'd love to be there for you. 
Final Thoughts
If you're thinking of starting an online business in the UK, congratulations! This is an exciting time, but it's easy to get overwhelmed by all the to-dos and expenses. By following the step-by-step guide above and keeping the relevant costs in mind, you can make your runway much smoother. 
Want to learn more about how to start your online business in the UK? Keep an eye on our blog; we regularly publish business insights for budding entrepreneurs. 
FAQ
How do I start an online business in the UK?
You'll need a business address to register as a limited company. Then build a website for your business, make sure it aligns with local regulations, fill it with products and content, and start selling! After you start an online business in the UK, make sure to use marketing and SEO strategies to get plenty of traffic. 
What is the best online business to start in the UK?
There are all kinds of niches you can work in, but popular choices include dropshipping, health and beauty, graphic design, and consultancies. 
Will I need a website for my business in the UK?
Even if you are running a bricks-and-mortar store, a website is a great way to get more eyes on your products. More people than ever are shopping online, and sales can be made 24/7. So, while starting a website isn't mandatory, it's a great idea.
Hand-picked related articles
Our meeting rooms are located at our Paul Street office,
and it's just a few minutes walk from Old Street tube station…
Our Address
3rd Floor, 86-90 Paul Street,London,EC2A 4NEDirections
Opening hours
Monday - Friday 9am - 18.00pm