23 March, 2022
How to Set Up a Limited Company Online: Full Guide for Entrepreneurs
So, you've decided to either set up a business or transition yourself from a freelancer to a limited company. That's great, and in doing so there are a ton of advantages. But before you head to the Companies House website, there are a number of things to consider and steps to follow beforehand.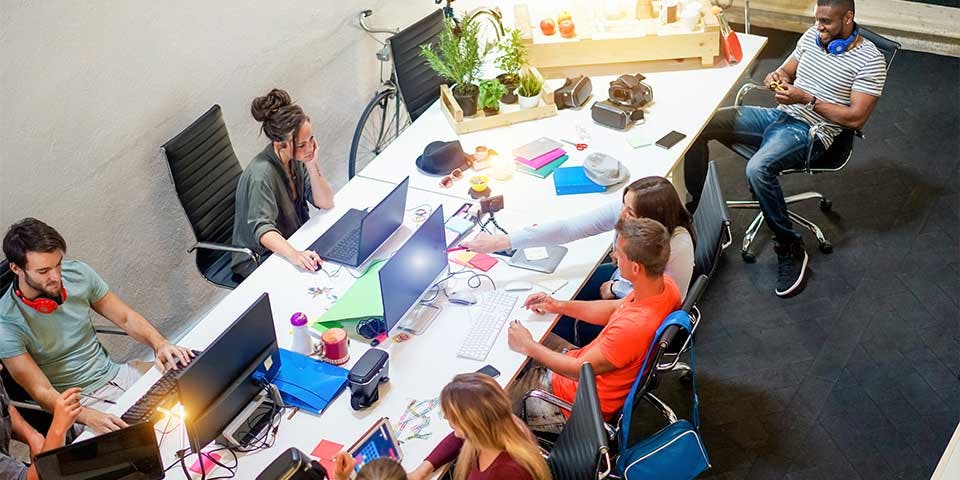 What Types of Limited Company Can Be Registered Online?
It's important to understand the differences between private and public limited companies before registering your business. The main difference is that a public limited company can raise capital by selling shares to the general public, while a private limited company cannot. Before you set up a company online, make sure to also read about the two types of private limited companies.
Public Limited Companies, aka PLC
A public limited company must have at least two directors and a company secretary and have issued shares up to a value of at least £50,000. It will offer shares to the general public, and potentially the stock exchange.
Startup businesses will not usually structure themselves as a public limited company, and is more often reserved for larger, established companies who are recognised brands, and therefore more likely to attract interest and investment.
This is the most common type of limited company in the UK, as it predominantly suits smaller, startup businesses.
Private companies often have a single shareholder, who is the original owner or sole trader, and therefore has full ownership and control. However, there is no limit on how many shareholders a company can potentially have.
As a business grows, there's usually the need for an additional cash injection, at which point there may be the need for new shareholders. With additional shareholders, comes shared control, and - of course - shared profits.
There is also a third type of limited company:
Private Company Limited by Guarantee
This structure is generally reserved for non-profits such as charities and other not-for-profit organisations.
These companies don't have shareholders and instead have guarantors who pay fixed contributions toward the company's debt.
Unless you're operating a non-profit, your business won't be eligible to operate under this structure.
How Do You Register a Limited Company Online
There are three ways you can set up and register with Companies House:
Set up a limited company online on the Companies House website, which can take just 24 hours
By post using form IN01, which can take 8-10 days
By using a company formation service such as Hoxton Mix
If you choose the latter option, you will have your limited company set up online in record time. Besides, company formation by Hoxton Mix also qualifies as the cheapest way to set up a limited company.
We have already posted material on how to register a company in the UK. Now, let's go through the steps to create a limited company remotely.
Choose the company type
Double-check if a limited company is right for you; you can also start a business as a partnership, a social enterprise, an overseas company, or an unincorporated association. 
Choose the name
Pick a name that complies with the rules for company names and check if it's available and doesn't fall under existing trademarks.
Decide on the shareholders, guarantors, and directors
Appoint individuals for key positions. 
Designate persons with significant control
Identify your beneficial owners (more than 25% of voting rights) and include them in your company's PSC register. 
Prepare the legal documents
Create a memorandum and articles of association.
Check which records you need to keep
Depending on the type of company you register, owners will have to keep different company and accounting records. 
Register with Companies House
The final step to create a limited company online is sending registration forms to Companies House and applying for Corporate Tax (alternatively, with HM Revenue and Customs).
What info do you need to register your company?
In order to register your company, you'll need the following:
Your company name
The names of your company directors
The names and addresses of your shareholders (as well as other security information, such as the town of birth or mother's maiden name)
Memorandum
Articles of association
An address you're happy to make public (as it's published on the Companies House website)
Check our guide to how to register a limited company in the UK for more information.
How Much Does It Cost To Register?
It costs £12 when registering online, or when doing it by post, the registration fee is £40.
When using a company formation service with Hoxton Mix, prices start from just £10.
Do You Need To Register If You're a Sole Trader or Freelancer?
If you're a freelancer or sole trader you do still need to let HMRC know, so long as you've earned more than £1000 during the financial year. For more information check out our guide to registering as a sole trader.
Once You've Registered, Then What Do You Need To Do?
Once you've set up your limited company, you're ready to start working on your business. Ensure you have a thorough business plan and keep full financial records.
However, you'll also need to make sure you are making yourself as visible and accessible as possible, which means you need to consider:
Creating a brand identity, including logo, slogan etc
Setting up a professional website and bespoke email address
Sales and marketing
Building a team
Companies House and HMRC will send you correspondence to the address you provided during online registrations, so make sure it's an address where you can regularly receive post or a virtual address that provides a mail forwarding service.
Possible Pitfalls of Setting Up a Limited Company Online
Below are some of the common mistakes people make when opening a limited company online:
Registering wrong company type
Making typos in filing and governance documents
Failing to include all shareholders and directors
Choosing the wrong company address
Failing to register for corporation tax
Not being prepared for financial admin and legal obligations
The Hoxton Mix Provides a Cost-Effective Alternative
For expert guidance on registering a company in the UK, look no further than Hoxton Mix. We can help you set up a private limited company online and have your company running with the strongest foundation for success. On top of that, we have fantastic options for you to create a cheap virtual office in the UK with a prime Central London business address. If you want to add prestige to your image and offer privacy to your members, this is your chance to do so! 
Our team can take the hassle out of setting up a new company or transitioning to a different business entity. In either case, you will get the support you need during registration and, if requested, additional services to help you through the highs and lows of owning a small business.
Final Thoughts
Since government agencies started creating web platforms and accepting applications on the Internet, many day-to-day operations have become easier. This applies to individuals and business owners. But when you're transitioning from a sole trader to a limited company, the amount of information to take in and the number of considerations to make can be overwhelming. And if you don't get things right, you're back to square one. 
A company formation service like ours can answer the most important questions about business choice, setup, and restrictions. We can form a limited company online in a matter of minutes while you focus on high-importance, time-specific business tasks. This article was written to give you a good understanding of the process - now, let us help you put this initiative into action! 
Need help setting up your limited company?
We're experts in all things business, so if you need help setting up your limited company, we offer a company formation service that takes care of all the hard work for you.
FAQ
Can I set up a new limited company online without an accountant?
Yes, you can do everything on your own on the Companies House website or use a company formation agent. The latter option is usually faster, more convenient, and allows you to avoid common filing mistakes.
What documents do I need to start a limited company online?
Here are the documents that you need to send to Companies House (the list does not include the type of information you need to provide): Memorandum of Association (initial shareholders), Articles of Association (rulebook) and Statement of Capital Holdings (name and addresses of the directors)
Is it easy to register a limited company online?
Yes, setting up a limited company in the UK online is not only easier than doing it by post, it's also quicker. There are many things to prepare and check (which you might need some professional help with), but the process itself is very straightforward. 
What does limited liability mean? 
Limited liability implies a legal distinction between the owner's and the business's finances. The owner is not personally liable for debts and losses incurred by the business and most business-related lawsuits.
What is a limited company and why should I set one up?
A limited company is a separate legal entity that protects you from personal liability for business debts. Setting up a limited company can also provide tax benefits and make your business look more professional.
Can I set up a limited company online?
You can set up a limited company online using Companies House's web incorporation service. It's a quick and easy way to set up your company without making any mistakes.
What is a registered office address?
A registered office address is the official address of your company, where Companies House and HMRC will send official correspondence. It can be a different address from where you actually operate your business.
What do I need to set up a limited company online?
To set up a limited company online, you must provide a company name, registered office address, at least one director, and details of the shares you plan to issue. You will also need to provide the residential address for each director.
Hand-picked related articles
Our meeting rooms are located at our Paul Street office,
and it's just a few minutes walk from Old Street tube station…
Our Address
3rd Floor, 86-90 Paul Street,London,EC2A 4NEDirections
Opening hours
Monday - Friday 9am - 18.00pm