22 November, 2023
How to Choose the Best Registered Office Address Provider
An official correspondence address is a must-have for any company. Some well-to-do owners choose to rent an office to carry out work-related operations, but this is hardly an affordable option for smaller ventures. If you've come by this article, you are probably looking for something else to suit your optimal price range or business needs.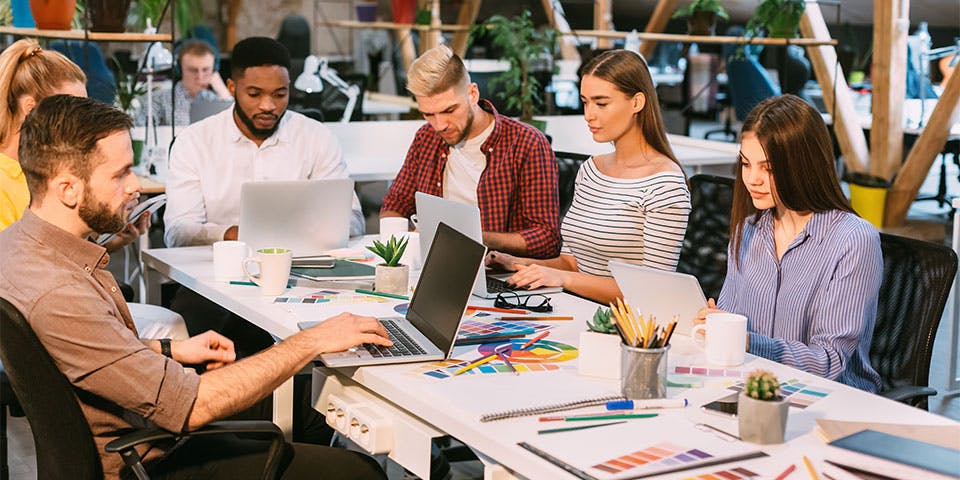 Let's line up your options. You might want to use your private residential address as the formal address. It's totally possible but not advisable for several reasons. For one, this would mean having all statutory communications and legal notices delivered right to your home. Two: it largely undermines your privacy, as more people would know where your homeplace is. 
A much more convenient option is to access registered offices for company formation. It ticks all the boxes in terms of cost-effectiveness, flexibility, and privacy. The only thing left to do is to find the cheapest virtual office provider. In the search for the best-registered office address provider, there are numerous recommendations you may come across. Let's talk about how to choose a registered office address provider and look at the top picks.
Key Criteria for Choosing the Best Registered Address Provider
There are, of course, a lot of things to consider when selecting a trusted registered address provider. We've narrowed down the list of criteria to the six most important factors:
1. Prime Location
The credibility of the business is directly proportional to its location. Look for providers who offer impressive addresses, which you will proudly display on your business correspondence. A prestigious address can leave a positive impression on clients and partners alike, benefiting your company with more closed deals and purchases.
2. Value for Money
While keeping your budget in mind is essential, don't just go for the cheapest virtual address in the UK without considering the value you'll get. Take the time to compare office plans and assess the features they offer. Find a provider that gives you a comprehensive package with all the necessary perks at a reasonable cost.
3. Extra Services Offered
A virtual office is not the only thing that can make your business grow faster. Consider what other services you might need to streamline your business operations. Some providers offer awesome add-ons like mail handling, call forwarding, meeting room access, and administrative support. Having these extras at your disposal can make a world of difference and save you the hassle.
4. Legal Compliance
The wider your choice of providers, the higher your chance of falling for a scam. Confirm that the provider offers their service legally. You need to verify that their office is in a legit commercial building officially recognized by the Post Office. A fully compliant address will give you peace of mind and ensure smooth dealings with authorities and clients.
5. Reviews
Tastes for providers differ, but it is still worth checking out what others say about the provider. Look for customer reviews and testimonials to gauge their reputation and track record. You want a partner you can trust, so dig deep and find out if they have any red flags or known issues.
6. Flexibility and Contract Terms
Life is unpredictable, and so is business. Choose a registered office address provider with flexible contract terms that allow you to adapt as your business grows or if you need to make changes to your address for any reason. Avoid being tied into lengthy contracts that could limit your options.
One note before we go on. Registered offices should not be confused with a business trading address or a business mailing address, which are addresses for your business contacts and clients.
Also, if you need these or other remote office-related services like mail handling and forwarding, check out virtual office plans by The Hoxton Mix! Browse the options and choose the optimal plan at an affordable price.
The Best Registered Office Address Providers in the UK
Offers drastically differ price-wise. Mostly, it depends on the location — Central London, East London, Greater London, Essex, etc. You can rent a registered address for a monthly price starting from £2.99 per week and going up to £45+ per month. Bear in mind that sometimes, the low price can be offset by higher charges for other services, such as business mail forwarding or company formation.
We have reviewed the most popular address providers in the UK and are ready to share our best findings. 
Office Central 
Office Central is a budget-friendly UK registered office address provider catering to businesses in East London. Their competitive rates start at just £0.35 per day, making them an attractive option for startups and small businesses on a tight budget. While they offer reliable mail handling services at £12 per month, their location and overall service offerings might not match the level of prestige and versatility compared to other providers.
London Base 
If you are looking for a well-rounded solution with an established registered address in Central London, London Base is a decent provider as well. Their rates start at £0.40 per day, striking a balance between affordability and a prime location in the heart of the city. With a solid rating of 4.8/5.0 on reviews.io, London Base demonstrates a commitment to customer satisfaction. However, they are rather limited in terms of additional services and perks.
Pro Biz Centre 
Among the best registered office address providers, Pro Biz Centre in Greater London comes across as cost-effective and reputable. Their rates start at just £0.32 per day, making them an appealing choice for budget-conscious entrepreneurs. They offer mail handling services for £12 per month and ensure compliance and security for your business needs. Still, their location and range of additional services may not match the level of credibility and convenience that your business might require.
The Hoxton Mix
The Hoxton Mix is a top registered office address services provider, offering a prime location in Shoreditch. The prices start at £0.41p per day. For £15 a month, the provider will receive your post and store it securely until you collect it. 
The company was launched in 2007 as a creative hub and is currently rated 4.9/5.0 on reviews.io. You can also rent add-ons, such as full-service mail handling (Scan, Email & Post), meeting room rental, and company formation, for a relatively low up charge. The website also features an information hub and enterprise solutions.
Why is The Hoxton Mix the Best Registration Address Provider for You?
The Hoxton Mix wins the race of best business address service providers. On the website, you can find many different services for companies that want to set up and maintain a presence in a great location. What's more, even higher-tier plans are still below average. 
In our experience, virtual office plans have been beneficial for companies of all sizes. Small business owners will save on the cost of renting an actual office space. For established companies, it's an opportunity to expand the talent pool and scale up stress-free. 
You can also rent a virtual office with a phone number for an extra £6.99 monthly. In addition to the standard virtual office features, you'll get a prime London 020 number, as well as forwarding to a UK/EU/US landline and UK mobiles. 
If you haven't officially registered your company yet, use our free company formation service!
Final Thoughts
At the company formation stage, it's important to ensure that all legal requirements are met and fulfilled. Many address providers have proven reliable many times so that the formalities will be duly observed. Before choosing a service provider, go through their website and look closely into the plans offered to select the best-registered office address provider in the UK. We hope our knowledge of how to choose the best registered office address provider will get you to the one you desire.
FAQ
What is a registered office address provider?
A registered office address provider is a company that offers an official correspondence address on a subscription basis. Thus, you can avoid using your residential address as your registered office for company registration.
Do I need a registered address?
Yes, a registered address is required from any company operating in the UK. It must be a physical location to which the Companies House and HMRC will send official correspondence. Bear in mind that it must be in the same country/jurisdiction where the company's activities will take place.
What is the importance of a registered office address?
A registered office address is vital for establishing your business's reputation and legal compliance. It serves as the official correspondence address where statutory communications and legal notices are sent. A reputable address enhances your company's image, which, in turn, increases purchase credibility.
How to choose a registered office address provider in London?
The main criteria to consider are location, value for money, extra services offered, legal compliance, and the company's reputation.
What is the difference between a virtual address and a registered address?
A virtual address is a service that provides a business address without physical office space, often offering mail handling and call forwarding. On the other hand, a registered address is the official location registered with government authorities, ensuring legal compliance and receipt of official communications.
Which is the best London registered office address provider?
Make sure to compare the offers from different companies to see which one suits your business needs the most. Some of the best providers of 2023 are Official Central, London Base, Pro Biz Centre, and the Hoxton Mix
Is renting a registered office address expensive?
It depends on the provider and the types of services included in the package. If you choose our basic plan, which only involves picking up mail, it can cost as little as £15 per month. If you want the official correspondence to be forwarded or scanned, it will cost more.
Can I use a registered address that is not in London?
Yes, as long as it's in the same jurisdiction as your company's operations. That said, having a London-based address has its benefits, especially if you use it as a trading address as well.
Hand-picked related articles
Our meeting rooms are located at our Paul Street office,
and it's just a few minutes walk from Old Street tube station…
Our Address
3rd Floor, 86-90 Paul Street,London,EC2A 4NEDirections
Opening hours
Monday - Friday 9am - 18.00pm