23 December, 2022
How to Register a Small Business in the UK in 3 Steps 
If you'd like to start your own business, you might have questions about registering a small startup in the UK. After all, you want to ensure that you do everything by the book and make the most of all available support.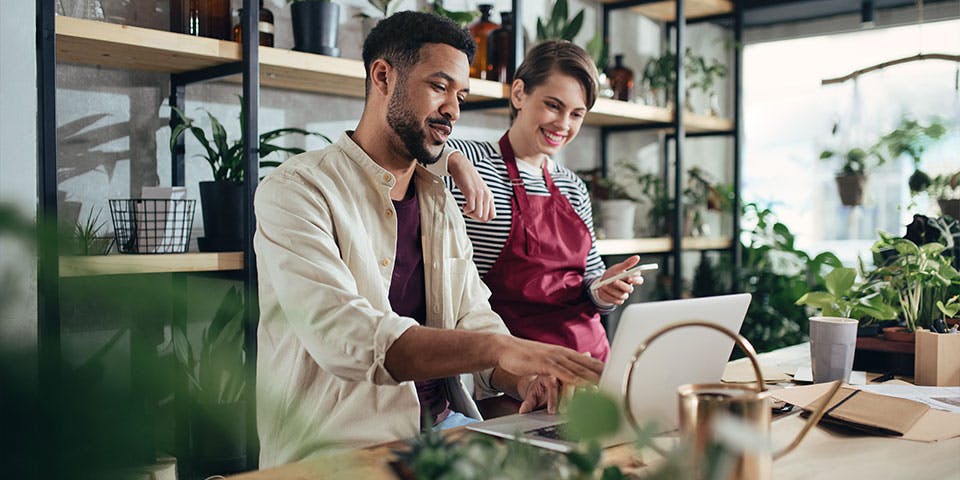 In this article, we'll walk you through the process of registering a small business in the United Kingdom so that you know what's expected of you. To find out more, read on!
How the Government Supports Young Businesses and Startups in the UK
When starting a new business in the UK, you may wonder what support is available to you from the government. There are a few different ways that help startups, including:
Start-up loans. With a successful application, the government will award you between £500 and £25,000 to help you get your business off the ground. This is a type of personal loan, so you must pass a credit check first.
Tax relief. Tech businesses and those in the manufacturing industry may be eligible for tax relief or credit. There are a number of criteria you must meet in order to qualify for this Corporation Tax relief.
Advice and workshops. Not all support comes in the form of monetary assistance; the government also provides people with free advice and even runs workshops.
What You Need to Register a Small Business in the UK
Once you've managed to acquire the support necessary to start your business, you should start thinking about registering. But what do you need in order to register as a small business here in the UK? That's the question we will answer in this section.
An Available Business Registration Address
Additionally, you will need an available business registration address when registering a small startup with a limited company structure. This must be a registered office address where all company correspondence will be sent. It must adhere to these two rules:
Your business registration address must be a physical address in the United Kingdom.
Your business registration address must be in the same country your business is registered in.
The Appropriate Paperwork
Finally, please ensure you have all your paperwork in order before registering your company. The paperwork you'll need will differ depending on the exact business model you've used.
In the next section, we'll take a closer look at how to register a small startup in the UK, including the different types of paperwork you'll need for the various business structures.
Main Steps to Register a Small Business in the UK
If you've ever wondered how to register a small business in the UK, this section will answer all your questions! Read on to find out all you need to know.
Step 1: Decide on a Business Structure
When thinking about how to register a company in the UK, the first thing you should consider is your business structure. This is because you will need to take different steps to get your company up and running, depending on your business model.
The three main business structures are:
Sole traders: As a sole trader, you will run the business by yourself. Your company is not a separate legal entity, meaning that you are solely responsible for any debt incurred.
Partnerships: A partnership is a popular way for two people or more to run a company. In this business structure, the partners share financial responsibility for the business.
Limited companies: A limited company is considered a separate legal entity from its owner. This means your finances are also separate from those of your business.
The business structure you choose will also impact your National Insurance contributions.
Step 2: Decide on a Company Name
While this may sound like a relatively simple task, it's actually far more complicated than it sounds. For one thing, you need to choose just the right name for your company — one that's catchy and attention-grabbing whilst still managing to capture the essence of your business. 
As well as coming up with a unique and interesting name, you must make sure the name is available and hasn't already been registered. Even when listing a dormant company, you will still need to register a business name, though the other steps in how to register a dormant company differ.
Step 3: Register with HMRC or Companies House
Once you have these details sorted, it's time to register. Whether you register with HMRC, Companies House, or both depends on your chosen business structure.
Sole Traders and Partnerships
These business models do not need to be registered with Companies House. Instead, they only need to be registered through HMRC. Doing so will require your National Insurance Number, so be sure you have that to hand. 
Alongside your National Insurance Number, you'll also need to give HMRC your business address and company name. If you're in a partnership, the nominated partner will provide this information.
Limited Companies
Unlike sole traders and partnerships, limited companies are required to register with Companies House. Only through Companies House will you get a business registration number, which is necessary for setting up bank accounts, filing taxes, and more.
Registering a limited company with Companies House is a more involved process than registering a sole tradership or partnership with HMRC. Before you can do so, you will need to:
Appoint a director.
Appoint a secretary.
Appoint shareholders.
Outline your business structure.
Decide how much authority shareholders will have.
Write up a memorandum of association.
Write up articles of association.
What to Be Wary of When Registering a Small Business
When looking into how to register a new business, it's important to consider the possible pitfalls along the way. Here, we'll consider just a few of them.
Choosing the Wrong Business Structure
The structure is essential when it comes to registering your business. To that end, ensure you have a proper understanding of the distinctions between each model. This will make it easier for you to know what type of business structure you are using, which will help ensure you register with the right governmental body.
Registering with the Wrong Place
As already mentioned above, some businesses will have to register with HMRC and others with Companies House. This will depend on the business structure you use. Be sure to double-check that you're registering with the correct body so that your application goes through properly and there are no problems.
Not Having Your Paperwork in Order
Lastly, many people make the mistake of leaving their paperwork until the last minute, which can cause a lot of chaos, stress, and confusion, especially if multiple people are involved with your business. So, ensure that you sort out your paperwork well in advance and are absolutely clear about which documents you'll need to register your business.
How the Hoxton Mix Can Help
We've explained how to register as a small business in the United Kingdom, walking you through each step in the process. Hopefully, you now feel a great deal more informed and will be able to go forward with confidence. However, if you'd like to get any more information, our experts at Hoxton Mix will be happy to answer any questions you might have! Know that whatever advice we give is based on years of business experience.
But that's not the only way we can offer our help. If you're looking for an official London address to register your business, we can take care of that for you — and for a highly affordable price.
FAQ
Do I need to register my small business in the UK?
Yes, you will need to register your startup in the UK. The particular steps you'll need to take to register your business depend on the structure you have chosen, but you will still need to register with HMRC and/or Companies House.
Does it cost to register a business in the UK?
Yes, you will have to pay to register your business in the UK. It costs £12 to register online with Companies House, though registering by post costs more.
Hand-picked related articles
Our meeting rooms are located at our Paul Street office,
and it's just a few minutes walk from Old Street tube station…
Our Address
3rd Floor, 86-90 Paul Street,London,EC2A 4NEDirections
Opening hours
Monday - Friday 9am - 18.00pm