22 August, 2014
Behind the scenes of Re.Hack
A couple of months ago I was in a meeting with Eric and Joe from Unilever, we were discussing the recent demo day event that we had delivered the previous week and were just finishing up and packing bags etc. when Eric casually mentions, "oh and we want to run a hackathon in a few weeks, is that cool? Can we pull that together in time?"
Corporate Hackathons have been tried before and they have had mixed results, but we tend to have a "lets do it and apologies later" type of attitude so we went all in on this opportunity.
Fortunately the guys at the IT and e-commerce team at Unilever are open to new ideas, new ways of working and most importantly are aware of the mindset of working with startups and small agencies. They provided the brief and the venue and pretty much handed over the reigns to us in terms of who should be invited, how the hack should run and which team would be the best to run it.
Naturally our first port of call was Joe, Mike and Ben from the 3Beards (www.3-beards.com). Their experience and network was invaluable in pulling together everything from registration, to ideation, to pitch day. It would not have been the same event without their organisation and energy.
With limited time, we pulled in Chris and Danny from Square Circle (www.sqcircle.com) to create a brand and all the touch points required for the Hack. They did an amazing job delivering not just an uber cool brand, but organising the delivery of all the bags, power banks, laptop stickers, powerpoint decks, all the signage and t-shirts. Thanks to Mike for the modelling 😉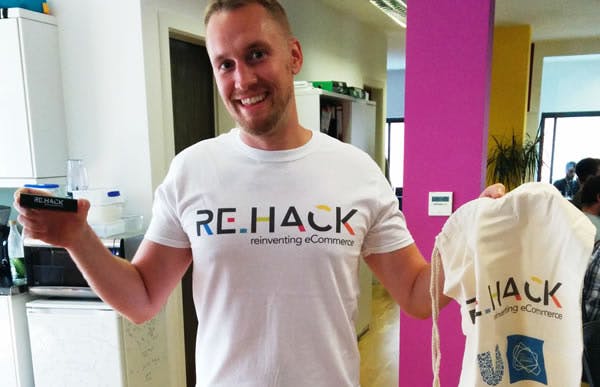 We wanted to make this event showcase the talent and diversity from the small agencies and startups in the tech city area, so opened the Collective address book to find all our suppliers.
We also pulled in Simeon from Vivida (www.wearevivida.co.uk) for the event filming and editing. Their unique way of capturing the atmosphere of the event made them a cert for this team.
We also needed some connectivity support for the hack so I want to thank Relish (https://www.threebroadband.co.uk/) for turning up on their scooter the night before the event and setting up 5 mobile 4G routers and totally boosting the bandwidth to acceptable levels for London's elite hackers.
We basically pulled on the innovation and "get sh*t done" attitude of the entire Shoreditch area to make this hack work within a matter of weeks.
As for the event itself, it was awesome. The entire team pulled together and made it one of the most memorable 2 days of this year. 50 hackers, 15 teams, 15 pitches, 1 winner but Unilever have invited 5 teams back in to discuss their concepts with a view to taking them forward.
Check out the video Simeon made of ReHack 2014. It was awesome.
Most importantly I met people who actually inspired me. I enjoyed every minute spent mentoring the teams and was constantly surprised by the breadth of the concepts and the lateral thinking applied to the brief. Respect.
Matt.
Hand-picked related articles
Our meeting rooms are located at our Paul Street office,
and it's just a few minutes walk from Old Street tube station…
Our Address
3rd Floor, 86-90 Paul Street,London,EC2A 4NEDirections
Opening hours
Monday - Friday 9am - 18.00pm