28 June, 2022
Business Address for the Self-Employed: What Is It and Do You Really Need It
As someone self-employed, without needing an office, you may think you don't need a business address. However, a business address can have plenty of advantages, so it's worth exploring to see if it's something you could benefit from.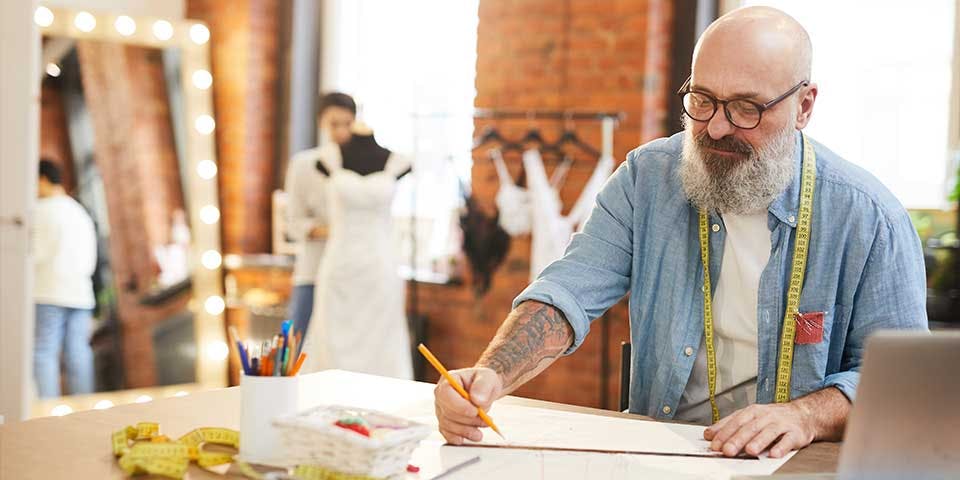 Down below, we have many benefits lined up for those who decided to work for themselves. Read and learn how to get a business address for the self-employed in the UK.
What is a Business Address?
A business address is an address to where your business is registered, which is usually an office or professional address. It's where all mail related to your business will be sent, and the address you provide to HMRC and Companies House if you decide to register as a limited company.
It's also the address you will advertise to your clients, customers, and potential investors, and it will appear on the likes of invoices, business cards, and your website.
If You're Self-Employed, Do You Still Need a Business Address?
If you're a sole trader, such as a plumber or electrician, then it's expected that you will always be on the road and therefore have less need for a professional office address. In these circumstances, it's not uncommon for sole traders to use their home addresses. However, it's less expected for limited companies or sole traders intending to become a limited company.
When registering as a limited company, the address you give to Companies House is the address that will be made public on their website. And no, you can't just use a PO box to register with Companies House, it should be a valid address. Because of this, you want to make sure you're keeping your personal information, such as your home address, private. Therefore, it's recommended that you use an office or virtual office address when registering as a limited company.
On the subject of privacy, keep in mind that if you operate in ecommerce, your correspondence address must be disclosed to your customers. Your business contact address doesn't have to be the same as the address you used during sole trader registration. However, it's more convenient to use the same address across different business operations. To avoid revealing your home address to everyone online, you can book a virtual office address in London.
So, it makes sense to have a self-employed virtual address because you can: 
Protect your private residence from public channels; 
Save money by getting a premium address without paying premium physical office prices;
Operate your business outside of the UK while still being registered with Companies House and HMRC;
Get access to mail management services;
Create a positive perception of your company for the public.
A virtual business address for self-employed work the same way for other business types, for example, if you're in a partnership. In this arrangement, you need an address to register with the relevant government departments and to make tax payments individually or on behalf of the partnership.
Regarding the tax payments, there is also a tax return system that we want to drop some words on. In the United Kingdom, self-employed individuals are required to file a tax return with HMRC each year. The tax return provides detailed information about the individual's self-employment income, allowable expenses, and tax liability for the tax year.
How to Change a Self-Employed Business Address
In short, the self-employed can change their business addresses through HMRC. If your business is registered with Companies House, you can download an AD01 form on the government website and send it by post or use the online service to your company's registered office address. Keep in mind that if your address changes, Companies House must be informed within 14 days.
We've already posted detailed instructions on how to change a registered business address, so check out the full article.
Can You Use Your Home Address?
Yes, any business can register and receive official business mail using their home address. However, as mentioned above, your information will be made public, and as your business grows, your customers will easily be able to get access to your personal details. Besides, it won't inspire confidence in your customers if your company is registered somewhere on the outskirts of London.
Because of this, if you intend, at any point, to become a limited company, you should think twice about using your home address and opt for a business one instead.
Variants of Obtaining a Business Address for the Self-Employed
1. Commercial Office Space Rental
Commercial office space is the first and most popular choice among self-employed individuals seeking a dedicated workspace. This hype is largely due to the numerous real estate agencies and property management companies out there. So, finding an office space suitable for your business needs is not a big deal. These spaces can be leased on either a short-term or long-term basis, depending on the individual's requirements. Rental costs may vary depending on factors such as location, size, amenities, and lease terms.
Advantages:
Renting a commercial office space grants the self-employed the freedom to customize the workspace according to their specific requirements and branding. You can preserve the inherent authenticity as the environment resonates with your business's unique identity.
A commercial office space ensures a higher level of privacy. This is particularly beneficial when dealing with sensitive client information or holding confidential discussions with partners, providing an environment of focused and undisturbed work.
2. Coworking Spaces
These are experiencing a significant surge in popularity, especially among self-employed professionals, freelancers, and startups. These shared work environments offer a mix of private offices, dedicated desks, and communal areas where individuals from diverse businesses can work together.
Advantages:
The greatest plus is a vibrant community. It creates a safe place for idea exchange among professionals from diverse backgrounds. You can engage with like-minded individuals, share valuable insights, boost innovation, encourage skill development, and even form potential business partnerships.
Coworking spaces often provide flexible membership plans, allowing self-employed individuals to choose the level of access they need. For instance, they might require a hot desk for occasional use or a dedicated workspace for more consistent usage. It's convenient to have it all at hand.
3. Virtual Office Services
A self-employment business address in the UK is the best practical solution for obtaining administrative services remotely. For those who put emphasis on cost-effectiveness, it is also the most affordable one. There are many providers to choose from, in the UK. They typically offer packages that include a prestigious business address in a prime location, mail handling, call forwarding, and access to meeting rooms or office spaces on-demand.
Advantages:
Self-employed individuals are cut loose from their home addresses. With a virtual office, you are able to travel to different cities or countries without the need to be physically present. This flexibility and global reach can help expand the business's geographical footprint and target new markets.
Virtual office services significantly reduce overhead costs, and here's why. Traditional workspaces require office furniture and utilities, but even more money-consuming is maintenance. The option of virtual offices is particularly advantageous for small businesses operating on a tight budget. If you are looking to start one, contact The Hoxton Mix to help you with business registration.
Set Up a Business Address in Minutes with The Hoxton Mix
How to set up a self-employment business address for my business in the UK is an FAQ we receive most. At Hoxton Mix, we can provide you with a prestigious London-based virtual office address for the self-employed, right in the heart of trendy Shoreditch.
For more information and to set up your self-employed business address in minutes, check out what a virtual office address with The Hoxton Mix can do for you.
FAQ
What are the benefits of a UK virtual address for my business?
A UK virtual address offers privacy, a professional image, and mobility. It helps separate personal and professional life while projecting credibility to clients.
What is a virtual address in the UK, and why do you need one?
A UK virtual address is a service that provides a prestigious business address without physical office space. You require one to enhance your brand's reputation, safeguard privacy, and handle mail efficiently. Learn the benefits of the business address for the self-employed and small businesses in the article above.
How to set up and register a UK virtual address?
Setting up a UK virtual address is easy. Choose a reliable provider, select your preferred address and service package, and register online. We offer step-by-step guidance and support to help you get started. Click here to set up your virtual address hassle-free.
Do you need a business address if you are self-employed?
Yes, when you register as self-employed, you need to provide your business details, including an address. Technically, you can use any address you like as your self-employed address, provided it is a physical address located in the same country as you operate, and you can access the mail from there. But some options offer additional benefits for sole traders, specifically, virtual business addresses.
How to change a self-employed business address?
If your business address is registered with Companies House, you can inform them about the change online (via the government portal) or by post. Make sure to let them know of the change within 14 days.
Is it legal to use a virtual address for the self-employed?
Yes, a virtual business address for self-employed is not only legal but also can be the most convenient option. The only two legal requirements for business addresses are that they must be physical locations and match the country where you operate. So, as long as your virtual address meets both stipulations, you can register it as your business address or change your details online or by post.
Hand-picked related articles
Our meeting rooms are located at our Paul Street office,
and it's just a few minutes walk from Old Street tube station…
Our Address
3rd Floor, 86-90 Paul Street,London,EC2A 4NEDirections
Opening hours
Monday - Friday 9am - 18.00pm