05 October, 2023
Main Steps to Start a Recruitment Agency in the UK
As of 2018, over 8,000 recruitment agencies were registered in the United Kingdom (UK), and five years from then, more agencies are fully functional. Owing to growing recruiting challenges, firms prefer to streamline their hiring process, and more people will start a recruitment agency in the UK between 2023 and 2025.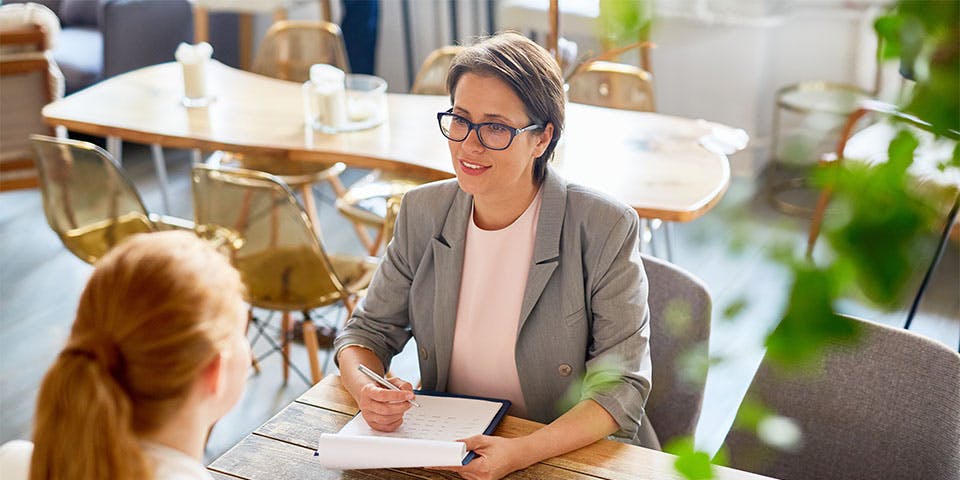 These numbers may seem scary if you're planning to open a recruitment agency in the UK. However, you must know that job opportunities are increasing, and most employers depend solely on recruiting agencies to find candidates to fill vacancies in their company. 
The need is rising, and there's no reason why you shouldn't latch into the market if you have a knack for finding great talents. So, in this article, we provide comprehensive details into the recruitment industry in the UK and a step-by-step guide to help you kick-start your staffing company. Let's begin!
Is There an Increasing Demand for Recruitment Agencies in the UK?
The demand for recruitment agencies in the UK labor market in 2019 was promising, especially considering the decline in the following year. It was a slight increase from 2018 because companies were just starting to adapt to the evolving nature of recruitment in the digital age. 
The following year wasn't exactly the best due to the COVID-19 outbreak and the general elections between January and March of 2020. The recruitment agency industry, alongside many others, was faced with the significant challenge of adapting to remote workflow. Even though they still made significant contributions to the UK economy, we can say that the industry travailed in one of the most difficult recessions ever recorded.
After the pandemic, the industry continued to grow, and by the end of 2021, the recruitment agency sector surpassed the rates of 2019. With an average of about 1 million monthly job vacancies in 2023, there's no better time to run your own recruitment agency in the UK than now. Let's find out how exactly to get started.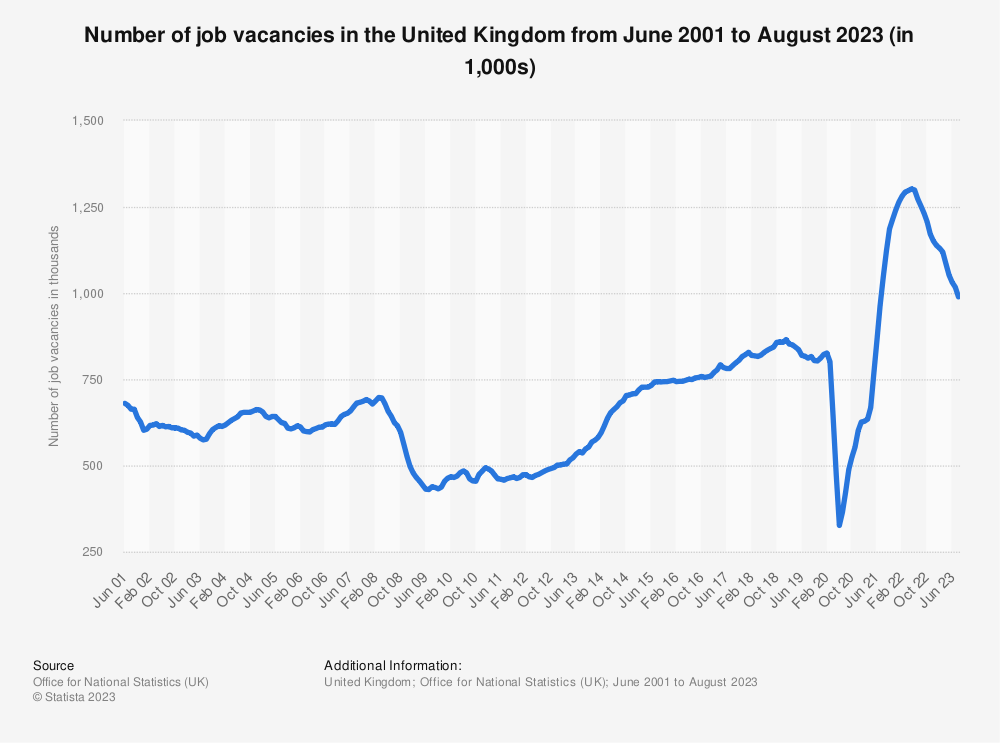 Number of job vacancies in the UK. Photo credit: Statista
A Step-by-step Plan to Successfully Launch a Recruitment Agency in the UK
Starting a recruitment agency in the UK means joining a fast-growing industry with lots of financial prospects. But if you're unsure where to start, the steps to establish a UK recruitment agency below will enable you to launch a recruitment agency in the UK successfully.
1. Determine Your Niche
Like every other establishment, recruitment firms have niches they can serve. But why is it necessary to define the activity scope, and how is niche defined for this sector? The answer is simple! Defining the scope of activity and niche for your new staffing business is important because it lays the foundation for its identity, strategy, and success. 
The key distinction you'll come across when considering launching a recruitment agency in the UK lies between generalist and specialist agencies. Specialist firms offer staffing solutions to specific industries, skill sets, or job categories. They have more industry knowledge and have years of experience finding the best talents for such companies.
On the other hand, generalist agencies recruit candidates across various industries and job functions. They provide various services but sometimes lack in-depth expertise in specific fields. Nevertheless, their wide coverage doesn't make them less efficient than specialists. 
2. Assess Your Competitors 
The UK hiring market experienced a significant employee shortage that affected small, medium-sized, and large businesses in April 2023. Unsurprisingly, this decline led to reduced productivity and output and increased the current employee workload.
It goes without saying that though employee jobs increased in 2023, it is still challenging for companies to find the right talent to fill a job vacancy in their establishments without any help. Most of these businesses used a recruitment firm in the past, meaning that they may still want to stick to their old partners.
Convincing them will be difficult, and that is where studying your competitors, their strategies, and clientele comes in. While doing this, your main focus should be on their limitations. Analyse these shortcomings and proffer relevant solutions that address the client's pain points.
3. Evaluate Your Finances
During their first year, startups can fail for various reasons, including lack of funding, poor management, and bad financial decisions. To successfully create a recruitment agency in the UK and scale through, you'll need a realistic evaluation of your finances. This analysis lays the foundation for a solid business plan and money decisions you'll make. Here are seven common costs you should consider:
Business Registration: To register a recruitment agency in the UK, you must provide the company name, registered address, and other relevant details. Registering a business in the UK costs between, £12 - £40, depending on the mode of registration you opt for.
Business Bank Account: Setting up a business bank account is free, and it is another important step to separate your business money from personal funds. A business account will help you automate your bookkeeping, protect you from business debt liability, and make you eligible for a loan or government support.
Office Space: If you're running an on-site business, a workspace or physical location is another factor that can tamper with your finances if you don't have a proper financial plan. So, evaluate office space costs against other expenditures to find the best location within your budget.
Equipment and Technology: You'll need equipment, computers, software, or other technology. These costs can add up, so plan for them ahead.  
Marketing and Branding: Marketing is the only way to let people know what you do and whom you do it for. You'll need to budget an average of £5,000 for things like a logo, website, advertising, and promotional materials. 
Insurance: Depending on the insurance company and package, you may spend an average of £150 to cover your business. This fee protects your company from damages covered in the insurance package. 
Ongoing Costs: After paying for your company's upfront needs, you'll need to evaluate how you'll handle daily and seasonal operations, like electricity bills, rent, maintenance and repairs, salaries, etc. Have a budget for all these to avoid making rash decisions or taking out loans to pay debts.
4. Research Laws and Regulations
Legal troubles and lawsuits are some factors that take businesses down, even before they kick off. The truth is that almost every successful company has been sued at least once (some yearly), and a lot of these cases are not resolved until trial. One of the major cases businesses in the United Kingdom and other parts of the world get sued for is discrimination. 
Towards the end of 2022, the UK employment tribunal had 493,000 outstanding discrimination claims. These losses are avoidable if you commit time to understand the laws and regulations guiding the recruitment industry.
This effort will protect your company from losses and promote fair and ethical hiring processes, protecting employers and job seekers from discrimination and exploitation. Here are common regulations for you to follow: 
Don't charge job seekers for finding them jobs.
Avoid discriminating against people in job advertisements.
Ensure that the ad indicates that it is a staffing agency advertising and not the company directly.
In addition, when you set up a recruitment agency in the UK, you must comply with the Employment Agencies Act 1973, the Conduct Regulations 2003, the Income Tax (Pay As You Earn) (Amendment No. 2) Regulations 2015, and the Equality Act 2010.
5. Set Up Business Goals
Just like evaluating your finances can clarify your financial decisions and protect your company from monetary woos in the future, business goals give you a clear focus. So, if you're learning how to start a recruitment agency in the UK, goal setting is one area you should never ignore.
Aside from setting goals for stakeholders to follow, it can also provide you with metrics to see if your business is succeeding or not. In cases where your recruitment firm is failing, it will be easier to locate the problems and proffer solutions and strategies that will help you get back on your feet.
6. Develop a Marketing Plan
You can have a great business plan, all the experience in the world, and a budget to realise your ideas, but what is the point if no one notices you? Invest in excellent marketing strategies if you want to build a strong online presence, enhance your agency's credibility, and showcase expertise in matching talent with the right opportunities.
7. Invest in Tech Tools
For your recruitment agency to succeed in the 21st century, you must have an active digital presence because almost all job searches are now done online. What's more, people got a taste of remote work and its convenience and now prefer working from home, at least partially. To not lose these prospective job seekers, you will need to invest in the necessary tech tools, as it streamlines the virtual hiring process. This efficiency saves time and cost, allowing employees to focus on more complex tasks.
8. Invest in Talents
Once you launch a recruitment agency in the UK, investing in employees is the next step to building a successful staffing firm. This goes past benefits, beer parties, and salaries; investing in people can include: 
Giving them access to opportunities for career growth
Providing courses and mentorship for advanced training
Creating a comfortable work environment
Compensate employees competitively
Besides that, when starting a recruitment agency in the UK, ensure you create an effective feedback culture and encourage employees to suggest the best ways you can invest in them. Also, workers should be free to leave comments on what they think about the current talent growth strategies you are incorporating.
What Are the Challenges of Launching a Recruitment Agency? 
Launching a recruitment agency in the UK may not be a ride in the park and can pose many challenges. From finding clients to building a strong brand that companies and job seekers can trust, you need to understand the common pitfalls to expect before you start your own recruitment agency in the UK.
1. Attracting the Right Clients
To open a recruitment agency in the UK and get it up and running, you need clients who trust your recruitment process and the candidates you bring on board. But as a new bee in the industry, finding the right client, or any client at all, can be daunting. Nevertheless, when you work with a few companies and deliver as expected, they'll become your advocates and increase your visibility through referrals combined with your marketing efforts.
2. Financial Issues 
Most startup recruitment agencies exhaust funds in the first few months or years of being in business. This could happen for many reasons, including making the wrong financial decisions, lack of funding, and not evaluating your finances properly and early enough. To run a recruitment agency in the UK that is financially sustainable, consider all the relevant monetary factors that were discussed earlier.  
3. Building a Strong Brand
Most people prefer to go into business with well-known brands, but as a startup, it can be difficult to get the word out there. The best strategy to focus on is creating a consistent profile across relevant social media platforms and having a properly optimised website that showcases what you do, how you do it, why you're the best, and testimonials, if you have any. This will foster trust, and with consistency, you'll build a reputable recruitment brand.
Consider The Hoxton Mix as Your Trusted Partner
The challenges new recruitment firms face revolve around the tools and strategies necessary to help them grow above their competition. Navigating the sector and standing out is the goal. However, increasing your visibility and building credibility on your own is a daunting task.
To do it right, you need every help you can get, especially as it pertains to your office space and all it entails. Working with a UK-owned virtual business address provider is your first step to securing your digital future. 
The Hoxton Mix is one of the leading virtual business address providers in London. Apart from helping you secure a cheap and reputable virtual company address in a prime location, The Hoxton Mix will help you handle your mail, give you a London 020 phone number, and provide you with a virtual meeting space, amongst other things.
These will not only help you reduce the stress of starting your recruitment agency in the UK but will also help position you on the path to success. Send an inquiry today to learn more about how we help limited companies increase their online visibility. 
FAQ
Is it hard to start a recruitment agency in the UK?
Starting a recruitment agency in the UK can be challenging, especially when you lack proper guidance. However, with the step-by-step guide provided in this article, you will be able to not only set up your company but also get new clients, gain trust and credibility, and manage your agency effectively.
Are recruiters in demand in the UK?
Yes, recruiters are in demand in the United Kingdom, and the UK recruitment market value was £141.2 billion in 2022. The need is on the rise because virtual hiring firms have provided a working system that companies can rely on to hire new and qualified talents. 
How are recruitment agencies paid in the UK?
Usually, employers pay recruitment agencies in the United Kingdom when their candidate successfully starts a role. As a job applicant, you shouldn't pay any staffing company for roles they advertise.
What are the legal requirements for setting up a recruitment agency in the UK?
Every recruitment agency in the UK must be registered at Companies House to be recognised as a business under the Companies Act 2006. In addition, you'll also need a license in some cases to operate as a legalised company in the UK. 
Hand-picked related articles
Our meeting rooms are located at our Paul Street office,
and it's just a few minutes walk from Old Street tube station…
Our Address
3rd Floor, 86-90 Paul Street,London,EC2A 4NEDirections
Opening hours
Monday - Friday 9am - 18.00pm