05 July, 2023
The Advantages of a Virtual Address for Home-Based Businesses
Thanks to the pandemic, a new business trend has appeared — work from home. With big companies like Microsoft and Zapier topping the list of brands adopting remote work style, startups and mid-sized businesses make the bulk of the list. This is not surprising, given that such companies have zero cash to spare on "negotiable overheads" — expenses such as lease and administrative fees small businesses can survive without.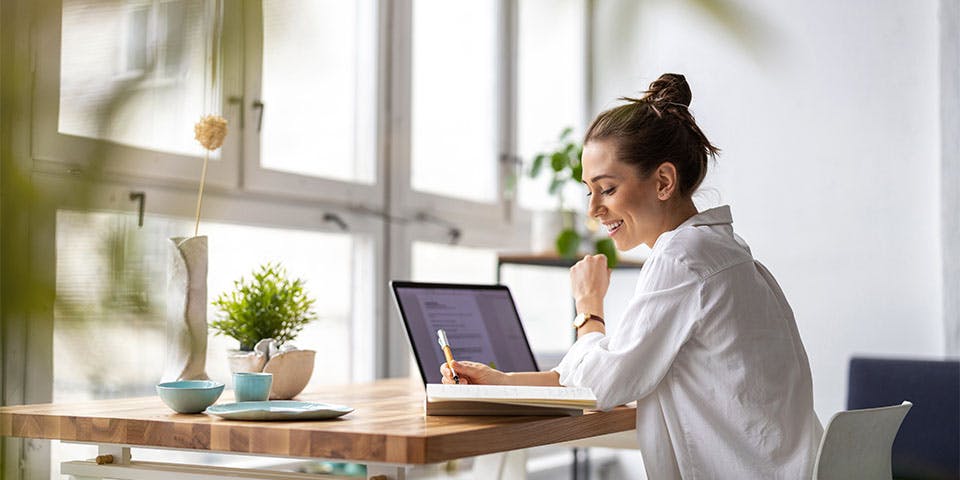 However, working from home doesn't mean you should register your business address under a PO Box or use your home or cafés for business meetings. You can use a virtual office address instead, which offers businesses an affordable and flexible office location for their administrative dealings.
But what are the benefits of a virtual business address for home businesses? This ultimate guide will spotlight its key perks and why it is the missing piece of the puzzle for home-based businesses trying to boost their professional image and command market authority.
Benefits of a Virtual Address for Home-Based Businesses
Simply put, a virtual address gives businesses physical office space in a central location anywhere in the world. It provides a "watershed moment" solution for every home-based brand that wants a professional lift while saving money and stress. 
Want a quick introduction before we dive deep? Check out our article on the benefits of a virtual office and why using your home address is bad for even the smallest businesses.
Now, let's have a closer look at the top three advantages of a virtual address for home-based businesses:
1. Professional Image for a Home-Based Business
Picture the scenario — Your prospect arrives at your home for a business meeting, and they have to stroll through your sitting room, laundry room, and kitchen to reach your home office. Plot twist, your client shows up on crutches or a wheelchair, drops by unannounced, or your pet decides your meeting time is the best time to go wild. Things can go wrong in a zillion ways and that's why using your home, café, or park for client meetings cannot be associated with a high level of professionalism.
A professional virtual office address can become the number one determinant of what kind of first impression you make. It gives you a professional outlook that changes the entire trajectory of your meeting, for the better. 
Your business address in the hands of your prospects also serves as a safety tool to be sure your address is real and seated at a good location. The more pro-features you have, the more your customers will believe your product/service hook, line, and sinker. These winning virtual office benefits for home-based businesses are great because you'll get a professional business address at affordable rates without bothering about cut-throat overhead costs. 
2. Privacy and Sensitive Data Protection
Using your home address as your company address means clients, strangers, and every Tom, Dick, and Harry know where you live — major yikes! Apart from the physical harm and inconvenience this could cause, it also places you at risk of phishing scams and e-security breaches. 
One of the key benefits of a virtual address for a home business is that it safeguards your privacy. When you sign up for a virtual office address, you'll get a UK-based commercial address to keep your home away from business matters. That way, you don't lose sleep over an unruly customer barging into your home to wreak havoc. 
3. Additional Services
In addition to knowing that your home address won't appear on any business listing, you can enjoy the other benefits of a virtual mailing address for home businesses. You also can get access to a conference room, meeting room, coworking area, and receptionist services. The problem with receiving your business and personal mail in the same box is that you can mix them up, leading to lost contracts, misplaced documents, and even poor customer service. 
Mail handling and forwarding services are among the most important benefits of a virtual billing address for home businesses. The business centre manager sorts your mail and either sends it to your private mailbox or forwards it to the address of your choice.
To get the max out of those benefits, you can also read our article on how to choose a business address in the UK, which is incredibly valuable when you decide that a virtual address is right for your business.
Consider The Hoxton Mix as Your Trusted Partner
Why sacrifice your hard-earned clients on the altar of unprofessionalism? Our motivated team at Hoxton Mix offers cost-effective virtual office addresses in commercial areas in London. We have different virtual office packages to address your location and administrative challenges, so you can manage all your business needs. 
What you'll get is a dedicated office desk, mail handling, meeting rooms, coworking spaces, and more, depending on your chosen plan. Sign up to get the real-time magic and enjoy all the benefits of a virtual office for home-based businesses yourself. Whether you want a self-employed business address or a virtual business bank account, we'll tailor it to your specific needs.
FAQ
How to use a virtual address for a business?
To use a virtual address for your business, you need to first figure out your chosen location and then filter your searches by that location. Always remember to choose one that's flexible, affordable, and covers all your business requirements.
How do I set up a virtual address for my business?
The steps involved in setting up and enjoying virtual address benefits for home businesses are: Sign up > set up your assistants > provide access to important files and documents > set up communication channels > set up an online location and mail handling.
What are the advantages of a virtual office for home-based businesses?
The benefits of a virtual office for home businesses lie in its functionality and flexibility features that enable businesses to save money while maintaining a professional image and growing their brand voices.
Hand-picked related articles
Our meeting rooms are located at our Paul Street office,
and it's just a few minutes walk from Old Street tube station…
Our Address
3rd Floor, 86-90 Paul Street,London,EC2A 4NEDirections
Opening hours
Monday - Friday 9am - 18.00pm