22 March, 2021
What is an Agile Working Environment?
So-called 'agile working' can mean a variety of things, depending on the best fit for your needs. Regardless of exactly how you choose to interpret it, though, the general concept of an agile work environment is something a great many of us will have become more familiar with over the past year or so.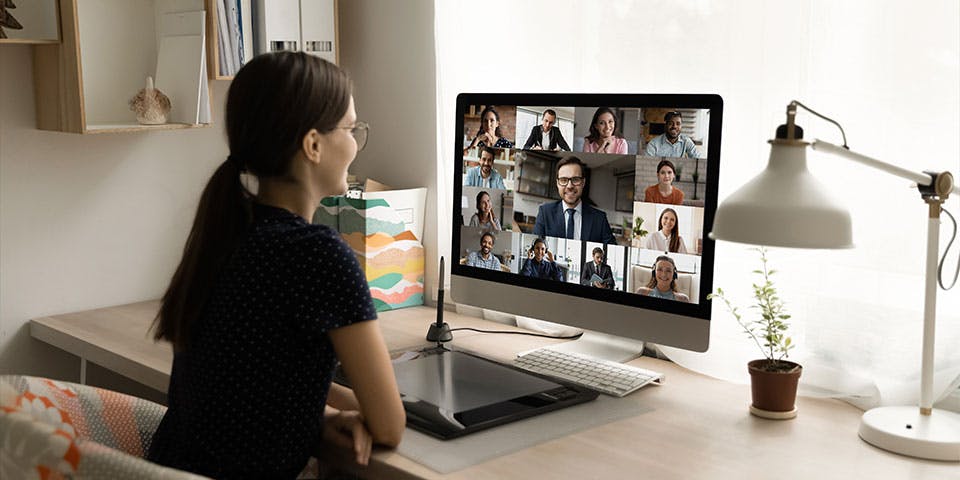 In short, agile working is about creating and using highly multifunctional workspaces. These are areas designed to meet all your core day-to-day productivity needs, while also offering enhanced flexibility to suit the rapidly changing demands of modern employees.
The notion of agile working can apply equally to both traditional and home office spaces. The latter, of course, has gained a great deal of relevance for many employees in 2020-21 due to the ongoing coronavirus pandemic, and the resulting work-from-home (WFH) social distancing guidelines still being encouraged across numerous sectors.
With that in mind, let's take a closer look at the idea of agile working - why is it rapidly becoming such a widely discussed topic, and how is it likely to affect the office setups of the near future?
Agile working defined
The simplest definition of an 'agile' workspace is one that can easily be adapted to the differing needs of multiple users. However, the concept goes well beyond simply making an office area flexible in terms of desk and seating arrangements. Truly agile work environments are ones that take a considered, holistic approach to the many different facets and subtleties of our everyday working lives.
In other words, these are not simply office spaces that can be tuned to accommodate the shifting day-today needs of their users. Rather, they're environments that have been carefully designed and implemented on a far more proactive basis. Creating a genuinely agile workspace is about anticipating and fulfilling employee needs on a more intuitive human level.
Why are agile work environments important?
The ultimate aim of agile working is to help foster and support optimal productivity among teams and individuals alike. Studies have shown that one of the most effective ways to achieve this is to make the transition into (and out of) work zones less jarring for all concerned.
Reducing the overall sense of disconnect between our 9-5 existence and our out-of-office lives can help create a more natural-feeling 'flow' to the work day/week. This in turn gives employees a greater feeling of autonomy, empowerment and control over that all-important work-life balance.
It's crucial that this isn't viewed as some sleight-of-hand trick, or an attempt simply to blur boundaries. Quite the opposite, in fact: for a workspace to be considered legitimately 'agile', it must take genuine strides towards meeting the specific needs of its users head-on.
What does an agile working space look like in 2021?
As you'd expect, there isn't any one hard and fast rule for creating an agile work environment. After all, the whole point is that they should be based on - and created as a direct response to - the demands of the individuals who'll be using it.
However, there are certain common features you're likely to observe across many of today's more considered agile workspaces. These will often include:
Flexibility and adaptability. Furniture and room layout should always feel as though it can be freely reworked as and when required. In addition to core desk/chair layouts and providing a range of multi-use furniture types, this also requires careful consideration of various other aspects such as power socket placement, storage access, lighting and decor. Highly modular office design is equal parts art and science, and it's a vital component in creating a truly agile workplace. 
Comfortable design and furnishings. The environment should actively promote a sense of overall wellbeing, care and convenience, helping users to feel less physically stressed or guarded while they're in work. In particular, designs that help to reduce the air of formality at work have been shown to boost overall productivity in many areas. Unassigned seating or hotdesking is one increasingly common approach to this, along with increased use of breakout areas, iso-stations, and zones designed to support more casual/impromptu meetings or collaborative brainstorming sessions.
Calm and tranquility. Closely related to the above, agile work environments should also be set up to foster a sense of psychological and mental wellbeing, which broadly means creating a quiet and relaxed-feeling office. The tricky part here is balancing our general preference for airy, open-feeling spaces with design that doesn't expose us to more unwanted interruptions or distractions. Assigning quiet zones for various sizes and layouts of workstations can be an effective step towards this.
Ease of access. Ensuring all employees have a smooth, hassle-free route for physically moving into, around and out of office spaces helps create that all-important feeling of seamless transition. Unnecessary doors, walls, partitions and poorly placed equipment can all hamper a sense of flow, making workers feel inherently more enclosed or confined. Going further, many modern office designs are now seeking to incorporate a greater sense of harmony with nature and the outdoors into their design, often through the use of seasonal indoor/outdoor areas.
Interaction: the key to an agile office?
While there's no single definitive checklist for what does and doesn't constitute an agile work environment, it's increasingly clear that creating a sense of shared space is fundamental to the productivity goals of the movement.
Note that this doesn't mean simply making everything open-plan. Quite the contrary, in fact - as more and more of us begin to divide our week between central office hubs and WFH bases, it's increasingly likely that individuals will need desk space for working on solo projects at their own pace. Agile working means catering to these needs too.
However, the very reason many people who can work from home still choose to spend time at the office is that they're multi-user environments. Even before the COVID lockdowns of the past 12 months, many cities were seeing a marked increase in use of hotdesking facilities and rented meeting space among their home-based employees.
This is only likely to gather pace as more of us split our work hours between various desks, rooms and buildings. When properly designed, agile work environments are ideally set up to support and encourage face-to-face collaboration. Demand for more collaborative and interactive spaces remains high, despite the rapid recent ascent of digital platforms like Zoom and Google Meet.
People still want the chance to work in close proximity to others, not least because it helps reduce any sense of isolation during work hours. This is clearly one of the bigger drawbacks of WFH - but it's also one that old-fashioned office designs can often contribute to, and hence a risk that many cutting-edge agile work environments are crafted specifically to eliminate.
Hand-picked related articles
Our meeting rooms are located at our Paul Street office,
and it's just a few minutes walk from Old Street tube station…
Our Address
3rd Floor, 86-90 Paul Street,London,EC2A 4NEDirections
Opening hours
Monday - Friday 9am - 18.00pm