20 March, 2023
Hoxton Mix Attends SXSW 2023: Exploring the Latest in Tech, Film, and Music
The Hoxton Mix is always eager to stay on top of the latest trends and advancements in the tech world. This year, we attended the annual tech, film, and music conference, SXSW, in Austin, TX, to immerse ourselves in cutting-edge developments across various industries.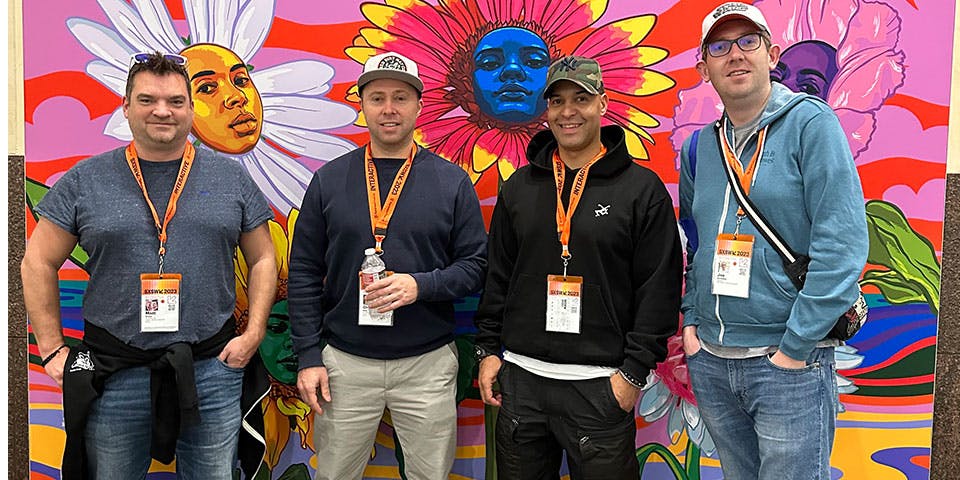 SXSW Overview: SXSW (South by Southwest) is a highly anticipated event that brings together talent from diverse fields for premieres, panels, and demos of new and upcoming innovations in film, music, and technology. The 2023 edition of SXSW attracted over 300,000 attendees, significantly increasing from the 277,000 visitors in 2022.
Day One, Friday. The conference atmosphere was filled with apprehension as attendees fretted over their upcoming paychecks and hastily attempted to move reserves from Silicon Valley Bank to larger banks. Despite the turmoil and sombre mood, discussions carried on with founders, technologists, and academics exploring the future and technology's role in advancing it. We contemplated the effect of SVB's "near extinction" on innovation.
AI and Ethical Challenges: Artificial intelligence (AI) was a central theme at this year's SXSW, dominating the conference programming. Numerous sessions explored AI's impact on industries such as art, music, journalism, and healthcare. The atmosphere was a mixture of excitement and caution, with companies showcasing AI's transformative potential while scientists and academics tackled ethical issues like copyright, deep fakes, and bias.
A standout moment featured Greg Brockman, OpenAI's co-founder, taking center stage. He delved into the prospects of AI technology and the ongoing dedication to enhancing it. Brockman recognised that OpenAI may not always achieve perfection on the first try, but they are perpetually adjusting, learning, and refining. He underscored the importance of boosting accuracy and correcting bias while advocating for appropriate regulation to guarantee that AI technology's growth remains unimpeded.
Brockman believes AI can assist us in tackling some of the most pressing issues we face today, such as climate change. Nonetheless, it is essential to focus on potential risks rather than solely the means to avert the misuse of the technology.
Advertising attendees noted a shift in focus towards solutions and return on investment (ROI) rather than excess. Major brands like Google, Meta, Snap, and Twitter were absent, while entertainment brands such as Amazon Prime Video, Audible, HBO Max, Hulu, and Paramount took center stage.
The team were captivated by an intriguing presentation at SXSW, which showcased: crafting a SXSW talk from scratch using generative AI. This was accomplished by Whurley, a well-known figure in the Austin tech scene.
Whurley had previously spent nine weeks preparing for a keynote at SXSW 2018, where he launched his quantum computing startup. Fast forward five years, and generative AI managed to accomplish the same feat in just a few hours.
The result was surprisingly engaging. The 45-minute address was thorough, captivating, and maintained a 'Whurley style'. It included one expletive and several jokes (aimed at lawyers) that sparked laughter from the audience. The most challenging aspect for Whurley seemed to be reading the AI-generated script from his iPad, as he is known for his spontaneous approach when speaking at SXSW.
He saved the revelation for the very end.
"Everything today from the slides to the speech I'm reading now is created by generative AI", he announced from the stage, proceeding to explain the process behind it. A mixture of whispers, astonishment, and laughter filled the room, as hundreds of SXSW attendees absorbed the unexpected disclosure.
The Featured Session: Understanding the Role of AI in Reshaping the Film & Television Industry was also enjoyed by us.
Wonder Dynamics founders, Nikola Todorovic and Tye Sheridan the actor/producer known for Ready Player One, demonstrated their new AI technology for the film and television industry during the session. The technology used Artificial Intelligence to make the VFX and CGI process faster, more efficient, and more accessible for both established studios and independent filmmakers. The session also brought together experts in the field, Angjoo Kanazawa (UC Berkeley Assistant Professor) and Antonio Torralba (Professor and Head of AI and Decision Making at MIT), who examined the latest AI-powered innovations in the film and television industry and explored how it would change the way we create and consume media.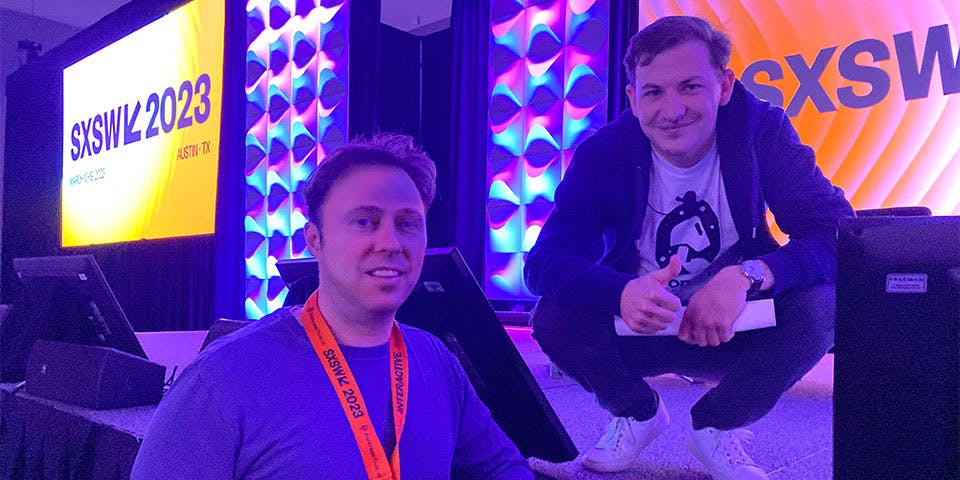 Metaverse and Web3: The hype surrounding the metaverse and Web3, popular topics at last year's SXSW, transitioned into practical showcases of their underlying technologies. As the industry moves forward, discussions have evolved from abstract concepts to tangible applications and implementations.
"Simulating the Future: New Metaverse Forecasts" was a standout talk that explored the potential of metaverse technologies to change our world. The presentation raised questions about how simulations might transform society and redefine reality, urging us to consider strategic worldbuilding and foresight as we navigate the coming opportunities and threats of the metaverse.
After a day of tech talks, we were thrilled to kick back and enjoy a cold beer at Zilker Brewing Co.! Their community-focused experience was top-notch, with great drinks and a lively atmosphere. We also loved that Spicy Boys Chicken served up some delicious grub right on site! Cheers to a great time at Zilker Brewing Co.!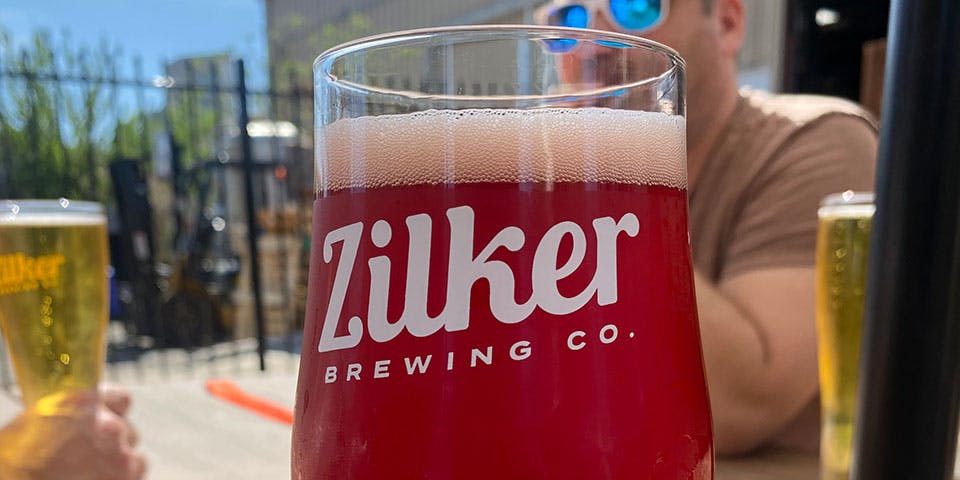 Our visit to The Lodge: a Paramount+ Experience at SXSW was nothing short of fun! We loved the themed speakeasies and bars that Paramount+ had set up, serving cosmically classy libations at the Ten Forward Bar and Dutton family-approved whiskey cocktails at the 1923 Speakeasy Bar. We also enjoyed the opportunity to bring our favourite Paramount productions to life through a lineup of themed photo-ops, from Grease: Rise of the Pink Ladies to School Spirits and Rabbit Hole. It was the perfect break from the festival crowds!
One thing that was missing from this year's SXSW was Bruce Sterling's annual "closing remarks," which always leave you with thought-provoking insights and leave you pondering long after the event is over. We hope that Bruce will return in 2024 to deliver his thought-provoking insights and commentary once again.
The Hoxton Mix's attendance at SXSW 2023 reaffirms our commitment to staying ahead of the curve in the ever-evolving tech landscape. As we continue to engage with cutting-edge developments, we're excited to share our insights and knowledge to help foster innovation and drive success for our customers and partners.
FAQ
What is SXSW?
South by Southwest (SXSW) is an annual conference held in Austin, TX, that brings together talent from various industries, such as technology, film, and music, for premieres, panels, and demonstrations of new and upcoming innovations.
When is SXSW held?
SXSW typically takes place in March each year, spanning around 10 days. The event schedule is divided into tracks, including Interactive, Film, and Music, which may overlap or run concurrently.
What is Artificial Intelligence (AI)?
Artificial Intelligence (AI) is the development of computer systems that can perform tasks that would typically require human intelligence, such as visual perception, speech recognition, decision-making, and language translation. You can learn more about AI here.
What is OpenAI?
OpenAI is an AI research organisation focused on creating and promoting friendly AI for the benefit of all humanity. The organisation aims to ensure that artificial general intelligence (AGI) will positively impact society. OpenAI is responsible for the creation of AI models such as GPT-3. You can find out more about OpenAI here.
What is the Metaverse?
The Metaverse is a collective virtual shared space that integrates augmented reality, virtual reality, and the internet. It allows users to interact with each other and digital environments through avatars, providing a seamless blend of digital and physical experiences. You can learn more about the Metaverse here.
What is Web3?
Web3, or Web 3.0, refers to the next generation of the internet that emphasises decentralisation, trustless protocols, and user ownership of data. Web3 technologies, such as blockchain and decentralised applications (dApps), allow users to interact directly without relying on centralised intermediaries. You can find more about Web3 here.
Hand-picked related articles
Our meeting rooms are located at our Paul Street office,
and it's just a few minutes walk from Old Street tube station…
Our Address
3rd Floor, 86-90 Paul Street,London,EC2A 4NEDirections
Opening hours
Monday - Friday 9am - 18.00pm