08 June, 2022
How to Start eCommerce Business in the UK: Take Care About It Upfront
Want to launch your own eCommerce business in the UK? Read on to learn why it's becoming a popular choice, how to start your own company, tips on how to register an eCommerce business in the UK, and what mistakes to avoid. Plus, we'll show you how to build an eCommerce business in the UK from home without jeopardising your privacy.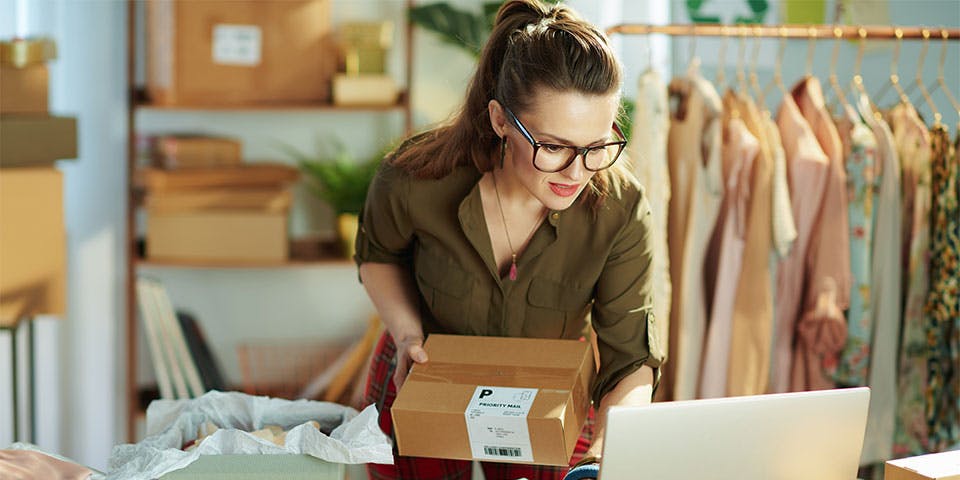 3 Reasons Why You Try to Start an eCommerce Business in The UK
Here are three main reasons why you may wish to start a UK-based eCommerce business:
1. The UK Has a Huge eCommerce Shopping Base
According to data from the International Trade Administration, online shopping is more popular in the UK than in any other major economy! eCommerce makes up over 35% of the UK's overall retail market, with shoppers spending over $3 billion per week at internet shops. 
Shoppers want to find the best deals — which is why more people than ever are turning to online stores to find low prices. This trend is driving the increasing amount of money spent at UK-based eCommerce shops. It's also become really common for consumers to check out a product in-store and then purchase it from their device for a better price. Click & collect is another growing trend, in which shoppers can place an order online and pick it up from a convenient location, meaning they no longer have to wait for shipping. 
2. Better Business Tools
With social networking becoming prevalent in the average person's life, eCommerce shops are leveraging social media marketing to reach massive new audiences and drive sales. What's more, there are plenty of services that allow small businesses to easily set up storefronts for a modest fee. 
The implication? Anybody can start a small eCommerce business and market it to an unimaginably huge audience. Plus, with the advent of dropshipping and fulfilment centres, you don't even need to keep inventory on hand. Physical storefronts are going bankrupt, but eCommerce shops are thriving. 
3. It's Simple to Get Started
The UK encourages entrepreneurship, and as one of the world's leading business regions, starting a business there is very accessible. Gov.uk has a comprehensive guide on registering your business; they even have a section with information about online and distance selling. The country allows companies to sell goods remotely from overseas to UK-based customers, so you don't even need to be a resident of the UK. 
Step-by-Step Guide to Setting Up an eCommerce Business in the UK
If you've decided that setting up an eCommerce business in the UK is the right move, then congratulations! You're about to embark on an exciting journey. To make things go smoothly, follow our eCommerce business setup guide. 
In this guide, we'll explain how to set up an eCommerce business in the UK — but as we mentioned above, you can still sell to the UK even if you are not residing or physically operating in the UK. 
Choosing Your Product(s)
Before you design your store and build your online presence, you need to figure out what to sell. This decision impacts every other decision you make down the line! While there are virtually limitless options, they all boil down to two types of products: commoditised and niche. 
Commoditised products are popular, high-demand, or essential products that pretty much everybody uses. Consumers are well-acquainted with these mass-market products — for example, standard food products, clothing, skincare, and so on. 
Niche products serve specific customer subsets — for example, dairy-free ice cream for vegans, handmade tufted rugs, or collectable antiques. 
Commoditised products are cheaper to acquire wholesale, but due to their mass-market nature, they have a lower profit margin, and you'll face more competition. Conversely, niche goods have a much higher profit margin, but it can be more difficult to find an audience for your micro-business. However, once you do find that audience, they stand a better chance of becoming long-term customers. 
Picking a Business Model
You've nailed down that you want an eCommerce shop — but you need to choose a more specific business model. This is the foundation that your company will be built on, so take your time and research the ins and outs of each one. Here are traditional eCommerce models to explore:
Business-to-business: Selling goods/services to other businesses. This model is commonly employed by software providers.
Business-to-consumer: Selling goods/services from businesses to individual consumers. This is the most popular eCommerce business model. 
Consumer-to-consumer: Many small businesses get their start in this manner. It involves transactions being made between individuals, which are often done via PayPal, Etsy, or eBay. 
Consumer-to-business: Under this model, consumers provide services to businesses; for example, freelancers may provide writing services to companies through Upwork or a similar platform. 
If you are selecting consumer-to-consumer or consumer-to-business, then you don't have to worry about registering your business with Companies House. But if you are setting up shop as a full business, then you'll need to move on to the next step of your business plan, which is selecting a legal structure.
Decide on Shipping and Fulfilment Tactics
You don't actually have to keep inventory on hand and ship goods to customers yourself. If you're handmaking your products, then that may be simpler. But if you're sourcing products from suppliers, it may be much simpler to work with an eCommerce logistics company. Providers can handle your warehousing and pack and ship your orders, taking a lot of work off your plate.
Another option is to work as a dropshipper. In this case, when you make a sale, you purchase the product from its manufacturer, and they send it directly to the buyer. 
Choosing a Legal Structure
Companies House has a great guide to help you select the structure for your eCommerce business licence, but we'll run you through the key points. The most common business structures are:
Sole trader: If you follow this structure, you are considered 'self-employed.' As soon as you begin your business, you need to register with the HMRC for self-assessment. As a sole trader, you are responsible for your business, its debts, and any legal requirements. You can employ staff, and you will need to pay income tax and National Insurance if you meet certain profit thresholds. 
Partnership: You and your partner (which can be an actual person or, for example, a limited company) share responsibility for the business. You both share profits, pay taxes on your own share, and are liable for business debts. If you select this structure, you'll need to pick a name, decide who will be the nominated partner (this person is responsible for recordkeeping), and register with the HMRC. 
Limited Liability Partnership: Under this structure, at least 2 partners must be selected as 'designated members' — and, as such, they are in charge of filing annual accounts. This model protects its members, as their liability is limited to their business investments and any personal guarantees they made when raising funds. Each member must register as self-employed with the HMRC, and the company must register with Companies House. 
Limited Liability Company: The company has shareholders, and their liability is limited to just the money they originally invested. For this company, there needs to be at least one guarantor and one director — but these positions can both be fulfilled by the same person if needed. You'll need to set up an LTD company online with Companies House. 
Prepare for Your Launch
Register a domain for your eCommerce shop. This is important as it's the web address that consumers will use to get to your shop. It should look professional, be memorable, and be easy to spell. 
Make sure your website runs smoothly and offers an engaging, easily navigable shopping experience. Nowadays, to be competitive, eCommerce websites must be mobile responsive, have a loading time of 2 seconds or less, have clear navigational menus, and incorporate bold visual-focused design elements. 
Your site should have a Home page, About page, Contact page, and FAQ page, in addition to product listings. And, of course, to cover your legal bases, you'll need Terms of Service, a Privacy Policy, and a Shipping/Returns/Listing Policy. 
As for your general listing page, include these elements to ensure the best shopping experience: 
Stock availability
Internal linking throughout categories and sub-categories
Quick view buttons
Filtering and sorting options
Best-seller sections and reviews
Then, to optimise your individual product pages, keep these tips in mind:
Make the "Add to Cart" button very obvious, preferably in a high-contrast colour. 
Use professional, high-quality photos that show off your products from multiple angles. 
Incorporate solid product descriptions that focus on their benefits. Incorporate SEO keywords, but take care not to "stuff" your description full of them!
Feature product-related components, including sizes, colours, styles, weight, etc. 
Display reviews, testimonials, and other forms of social proof under the product. 
So, at this point, you now have a registered company, a product, a shipping and fulfilment plan, and a website. But your work isn't done here — you have to continuously market yourself, adjust to Google's ever-changing algorithms, and keep conducting market research to stay competitive. Running your own business certainly isn't easy, but when you put in the work, it can be very rewarding. 
How To Start an eCommerce Business From Home
A big question you might have been wondering about: is it possible for you to start and run your eCommerce business from home? Actually, yes, it is! Especially if you are working with a third-party logistics company, as you won't have to worry about keeping inventory at your house or manually shipping orders. 
The simplest option is to start selling from home through a third-party marketplace like eBay or Etsy. The marketplace offers a wide customer base — but your own website can be tailored exactly to your specifications. 
There are a few things to keep in mind, though, if you want to run a business from home. Namely: 
Do you have the space you need?
Will your work get in the way of your personal life, or vice versa?
Can your living space accommodate the equipment you need? 
Are there people living with you who might accidentally damage your products? 
Will your business have room to grow?
Do you have space to employ staff?
If your practical needs don't get in the way of running your business from home, then you can benefit in many ways. For example, you'll be able to save on commuting costs and other daily expenses, and you won't have to pay a lease on a separate office. Plus, if you ever need meeting space, you can rent a room for the day — it's much more affordable budget-wise than leasing monthly office space when you don't need it. 
5 Big Mistakes to Avoid When You Launch Your eCommerce Business in the UK
Running your own business will be full of challenges, but you can make things easier on yourself by reviewing these top 5 mistakes. 
First, many start-ups run into trouble because they haven't calculated properly. Money management is a crucial aspect of running a business — and, besides being careful with money allocation, you need to ensure that your product has revenue potential that will actually give you a return on your investment. This is why market research is so important; if you rush this step, you risk dumping your funds into a product that isn't profitable, even if it sells well. 
The next big mistake is to spread yourself too thin across too many product types. When starting out, focus on a specific niche so you can easily target the right audience. If you build an inventory of too many products and try to cater to too many customers, you'll end up with deadstock, an incoherent customer base, and thousands of dollars in wasted funds. 
Don't put off building your social presence! In the grand scheme of things, perhaps social media doesn't seem too important. But nowadays, it's one of the most effective ways of engaging with customers, creating a digital presence, and developing a "voice." It's a really cost-effective marketing method, and it naturally generates shares, thereby multiplying your savings. 
Along the same lines, don't ignore SEO practices when you get started! Put your best foot forward by incorporating relevant keywords into your eCommerce site from the very beginning. Without these keywords, your shop has almost no chance of showing up at the top of search engine results. So, make sure you research what search terms your target audience is using and incorporate those terms into your product descriptions, page meta-tags, and blog posts. 
Lastly, it is a huge mistake to ignore the need for contact details. Perhaps you think that, since you're working from home and only have a personal mobile phone, you shouldn't include a business address or a phone number on your site. But just including an email is not enough for a professional look! If you don't want to publicise your personal information, consider using a business trading address.  
Want to Build an eCommerce Business? Follow These Essential Tips
Research your niche thoroughly. Even with the booming growth of eCommerce, you can't expect to succeed if your business doesn't bring something new to the table. So, be sure to research your competitors and conduct a gap analysis. Figure out what alternatives you can offer, what pain points your products solve, and which price points you can set to stay competitive. 
Create a marketing strategy. If you are running your business solo, don't sweat it — you don't need a whole marketing team to get eyes on your product! Look into various advertising options, read up on SEO practices, and develop a presence on social media platforms. As your business scales up, you can bring on more experts to further enrich your digital presence.
This is an important one that lots of people forget to consider: figure out what your business address will be. Some start-ups use their personal address to register their business, but this has some downfalls — it indicates a lack of professionalism, it can be an invasion of privacy, and it can lead to issues with mail handling. One alternative is to sign up for a virtual office address, which we'll examine in the next section. 
Consider The Hoxton Mix Your Trusted Partner
At The Hoxton Mix, we strive to give entrepreneurs the tools necessary for success — and at a reasonable price. This is why we offer affordable, feature-rich packages for virtual business addresses. Besides getting an address that can be used for company registration and to create a business bank account, you can get mail handling, forwarding, and scanning. You can even customise your plan and get a London 020 number for the ultimate professional look — and if you need to rent meeting rooms, you can do that here, too. 
Our plans start at £0.41 per day, and you can cancel at any time. You don't have to worry about getting locked into a contract!
And, The Hoxton Mix takes things a step further by assisting with company formation. We've partnered with Crunch to guide our clients through registering their companies — and the formation services are quick and secure. And it only costs £10, making it one of the cheapest ways to register a company! 
Another exciting thing: we've also partnered with Tide, who is now our exclusive business banking partner! Our clients are eligible for a year of free UK transfers as well as a £75 cashback promotion. 
So, if you're ready to get a business address, affordable mail handling, a free business bank account, and company formation assistance, you can find all of this — and more — with us. 
Final Thoughts
To sum up, when launching your own eCommerce business in the UK, it's important to: 
Narrow down your niche and select a profitable product
Choose a business model and determine how you'll handle warehousing and order fulfilment
Choose a legal structure and register your business accordingly
Make sure your website is SEO-friendly and offers a convenient, fast-loading, easily navigable experience
Decide if you want to use your personal address and phone number or a virtual, London-based one
If you need a virtual business address and phone number, mail handling and forwarding, affordable meeting room rentals, and help with company formation, we've got you covered at The Hoxton Mix! Just send us a message to get started. 
FAQ
How do I start an e-retail business in the UK?
Follow the step-by-step guide that we detailed in the article — remember to carefully choose a product, select a business model, register your company, and optimise your website. 
Do I need to register my eCommerce business in the UK?
If you are a Sole Trader, you will need to register with the HMRC if you earned over 1,000 GBP over the last fiscal year. If you're setting up as a Limited Liability Company or a Limited Liability Partnership, you must register with Companies House
Do I need eCommerce business insurance in the UK?
Even if it isn't mandatory to get insurance for your eCommerce business, we highly recommend doing so. eCommerce insurance can protect your company in many ways, including against claims related to defective items, copyright infringement, inadequate labels, worker's compensation, and more. 
Which eCommerce business is the most profitable?
Some of the most profitable eCommerce business ideas are fashion, electronics, furniture, and personal care products.
Hand-picked related articles
Our meeting rooms are located at our Paul Street office,
and it's just a few minutes walk from Old Street tube station…
Our Address
3rd Floor, 86-90 Paul Street,London,EC2A 4NEDirections
Opening hours
Monday - Friday 9am - 18.00pm