02 May, 2023
10 Uses of a Virtual Address for a Business in the UK
If you're a business owner or entrepreneur looking for ways to establish a credible business presence, you've come to the right place. You probably don't want to shell out a small fortune every month for a physical office space that you hardly use, do you? In this article, we will explore the various variants of using a virtual address in the UK and how they can come in handy regarding uses of a virtual address for your business.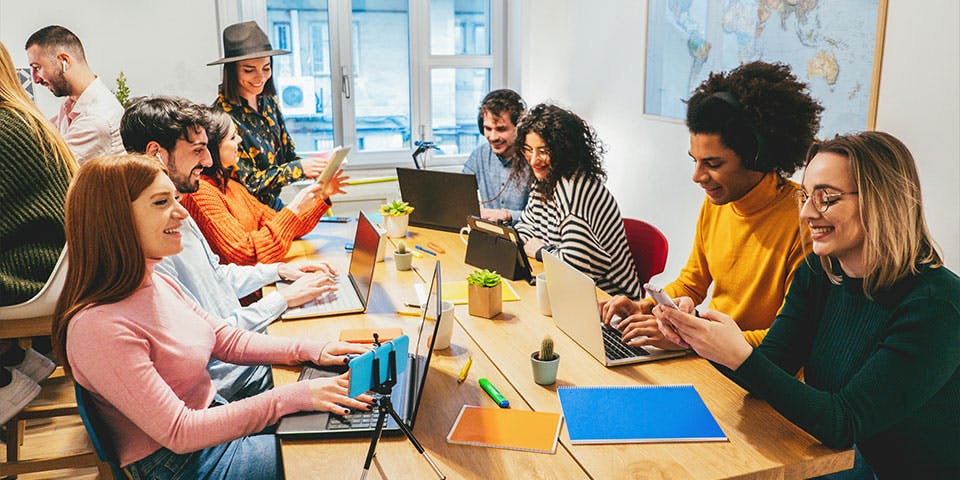 Moreover, we will show you some simple ways of capitalising on all the benefits of having a professional address without the hassle and expense of maintaining a traditional office.
Understanding Virtual Addresses
A virtual address is a real street address that is used as a business address without physically occupying that space. Owning a virtual office allows businesses to use a professional address without the need to rent an office at a physical address. Your virtual office in London will still have a real address, but as far as you're concerned, it exists predominantly in the digital realm.
In recent years, the popularity of virtual addresses for business use has skyrocketed. This is because more and more businesses are opting for flexible, cost-effective solutions. In fact, Glimps reports a 23% increase in demand compared to the previous year, but this figure doesn't even compare to the surge in demand that was observed during the lockdowns. Yet, it appears this trend has persisted, thanks to its popularity. 
You may already be aware of some of the perks that virtual addresses can offer your company in the UK, but let's go through them briefly:
Cost savings;
Flexibility to work from anywhere;
Compliance with legal and regulatory requirements;
Enhanced scalability;
Access to additional support services.
10 Different Ways of Using a Virtual Address
Read on as we explore ten methods of using a virtual address in the UK, as there may be a few options you have yet to consider.
Registering a Business (Corp) Address
As per UK law, every company must have a registered business address that is used for receiving legal correspondence and official notices from Companies House and HM Revenue & Customs. So, using a virtual address for a corp address is a great way to launch a UK-based company and comply with the legal requirements without a UK-based office. Bear in mind that this address will be publicly accessible. 
LLC Registration
Similar to registering a company, UK law requires that limited companies have a registered office address in the country. And similarly, using a virtual address for LLC is a cost-effective and quick solution. This can be particularly useful if, let's say, you're located in Scotland but want your business operations to extend to England or Wales.
Registration as an Agent
Next on the list of ways to optimise the utilisation of a virtual address in the UK is another type of registration. In this case, it's for registered agents. These are individuals or companies that act as a point of contact between a business and official government agencies. If you go this route, you'll be able to operate from home or have limited office space.
Registration as Self-Employed
Whether you're a freelancer or a solo entrepreneur, registering as self-employed is important for legitimising your business activities and complying with UK tax laws. However, as a self-employed individual, you may not have a physical office or storefront. The solution comes in the form of a virtual address for your business. 
Virtual Mailing Address
In the case your company is already formed and registered, you'll likely want to know how to use a virtual address now. You can sign up for a virtual mailing address service. With this option, the service provider will receive all your mail and packages on your behalf and notify you via email or text message when something arrives. You can then choose if you want your post forwarded to your residential address or have it scanned and sent to you electronically.
Opening a Bank Account
Banks require an actual address for account holders, and a virtual address works for bank account purposes, too. This is helpful for non-UK residents or those who don't have a physical address in the country. 
It's important to note that banks may require additional documentation to verify the account holder's identity and address.
Getting a Unique Taxpayer Reference
Let's first clarify that using a virtual address for EIN (Employer Identification Number or Tax ID) is not relevant for the UK. What is relevant, though, is UTR (Unique Taxpayer Reference) from HM Revenue & Customs, which is used to file returns and manage business taxes. And yes, the UTR number can be set up with a virtual business address.
International Business
If you're a foreign company looking to expand into the UK, your legal business address must also be in the UK. Don't rush to get an office to comply with this requirement; just go virtual. As an additional perk, it'll be easier to conduct business with UK-based clients and partners as you can provide a local point of contact.
Professional Image
Amping up the professional image is one of the ways to enhance your UK business by utilising a virtual address. And here is why it works this way: a prestigious and well-known address in the heart of London will make your business look more established and professional. This, in turn, will make a significant difference in how your business is perceived by clients, investors, and partners.
Privacy as an Individual 
Finally, whether you need an address for personal use or business purposes, there is the issue of privacy. If you're concerned about giving out your home address, either due to security or avoiding unwanted mail, a virtual address is a better choice.
Consider The Hoxton Mix Your Trusted Virtual Address Provider
Now, you're probably wondering how to get a virtual business address. If so, welcome to The Hoxton Mix, where you can enjoy a hassle-free experience with no set-up fees and the flexibility to cancel at any time.
When you sign up with our service, you'll receive a prestigious address in a prime London location. However, you want to use it—for business correspondence or setting up a bank account—it's up to you. But no matter the use, you'll save money on rent, utilities, and other overhead costs associated with maintaining a physical office space. 
If you're interested in how to get the most out of a virtual address in the UK, we also offer a range of other services to streamline your operations and improve your efficiency. So why not take advantage of them? Purchase one of our plans or contact us now to get started.
Final Thoughts
Virtual addresses are particularly useful for startups and small businesses that need to keep their expenses low but still project a professional image. With the numerous ways there are to use a virtual address, there is something for businesses of any size. Whether you're just launching your company or have been in business for years, you won't want to miss out on the opportunity. FAQ
FAQ
What is a virtual address?
A virtual address is a location that businesses can use as their official premises. It allows you to have a physical presence in the UK without the need to buy or rent office space.
How can I use a virtual address in the UK?
Some ways to leverage a virtual office address include registering a business, receiving business correspondence, opening a bank account, and getting a tax ID. If you would like more options, please be sure to read the article above.
Can I use a virtual address for an LLC?
When registering your LLC with Companies House, you're required to provide a physical address in the UK so that official mail and legal documents have a physical destination in the country. For this, a virtual address works perfectly.
Can I use a virtual address for my driving licence?
Unfortunately, no. When applying for a driving licence, you must provide your home address. Using a virtual address for a driving licence would not qualify as a valid residential address.
Does using a virtual address help to avoid tax?
No, businesses are required to pay taxes based on their business activities and income, regardless of their address. But there are many exciting ways to exploit the advantages of a virtual address; tax benefits are just not one of them.
Hand-picked related articles
Our meeting rooms are located at our Paul Street office,
and it's just a few minutes walk from Old Street tube station…
Our Address
3rd Floor, 86-90 Paul Street,London,EC2A 4NEDirections
Opening hours
Monday - Friday 9am - 18.00pm