14 October, 2022
Don't Know How to File a Company Confirmation Statement? Follow This Simple Guide
Every company registered in the UK is required by law to file a confirmation statement annually. This confirms to Companies House that the submitted data of your business is actualised, up-to-date and relevant.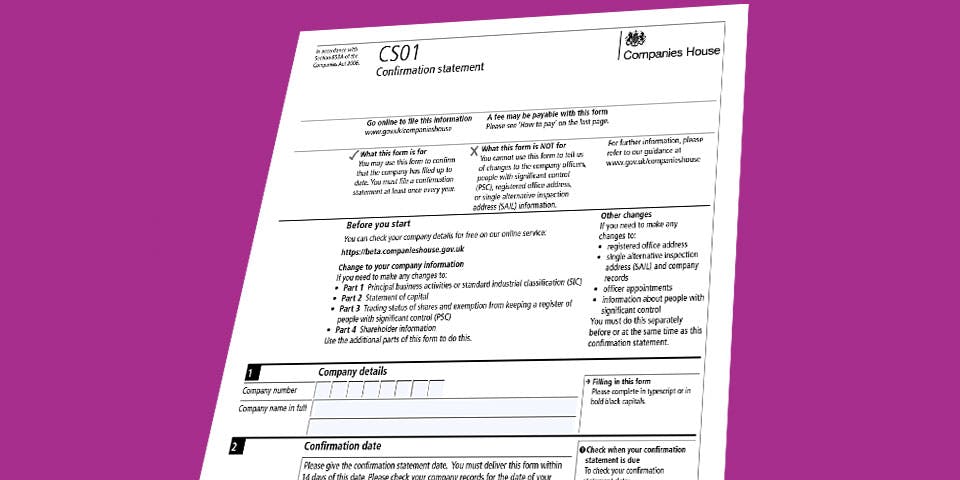 In fact, a confirmation statement is an alternative to the voluminous annual returns for a company, but it is quicker and easier to complete and submit. And the main factor that the new form is simplified is that if there were no organisational changes over the past year, then the data provided earlier should be simply checked, confirmed, and not re-entered.
Hence, the confirmation statement confirms that all business details and records stored in the Companies House and displayed on the public register are not outdated or false.
In this article, we answer all the following questions — how to file a company confirmation statement, how much it costs, what the deadlines you should meet to file a confirmation statement in the UK, and others.
What is a Confirmation Statement
So, a confirmation statement is a document that all UK enterprises must submit to Companies House at least once a year to maintain actualised crucial data on the structure, address, ownership, and management of the organisation.
In fact, the key purpose of this is to confirm that Companies House has the latest information about the business. However, even if there are no changes in the company, the confirmation statement must still be submitted. In this case, a company must report that all previously provided data is correct and relevant.
It is important to understand that the annual confirmation statements and annual accounts are two completely different documents. The only thing they have in common is that they are submitted by companies every year. So, if confirmation reports include information about the internal structure of an enterprise, then annual accounts are about the financial reporting process.
Do Dormant Companies Need to File a Confirmation Statement
In the United Kingdom, absolutely all companies limited by shares or by guarantee, limited liability partnerships, community interest companies, public limited companies, and unlimited companies must apply annually for confirmation. And this is regardless of whether the enterprise is active or inactive.
Dormant and non-trading organisations must also file a confirmation statement. This requirement was created for companies that do not operate directly, so there may be changes within their internal structure. Therefore, you must ensure that the data provided to Companies House is still correct at the time of submission. And the process of filing documents and information for dormant companies is completely the same.
File a Confirmation Statement: What Information Must be Checked
So, in order to apply for a confirmation statement, you need to review the company data registered with the Companies House. The following details should be checked, confirmed, and, if necessary, updated:
name of the organisation;
registration number;
business address;
list of directors and officials with their contact information;
shareholder data and their shares;
statement of capital with all details;
share capital;
trading status of shares;
Standard Industrial Classification code;
People with Significant Control.
The Process of Filling a Confirmation Statement in the UK
How to file a confirmation statement with Companies House? Basically, each company has several options on how to file a confirmation statement in the UK. You can do this online or by post using a standardised paper form, which you can access on the GOV.UK website. In addition, you can entrust this process to a reliable partner.
The vast majority of annual confirmation statements are completed in electronic format, as this method wins in convenience, speed, cost, and security. So, how to file a confirmation statement online?
1. Find your enterprise in the Companies House Register
Select the business for which you would like to file a company confirmation statement and choose the suitable additions.
2. Fill out a simple and short form in a couple of minutes
Check the registered data about your company and make sure that all the information provided is current and relevant. You must provide your Companies House online account password and authentication code. If you do not have these details, you can request them.
3. Wait for your confirmation statement to complete
Once you check and submit your organisation data, it will take a few hours for Companies House to process your document and update the registry. You will receive an email notification when your registration is successfully confirmed.
How Much Does it Cost to File a Confirmation Statement?
Companies House charges a payment for filing a confirmation statement. Deciding how to file a confirmation statement online or offline affect the price. Applying online is not only faster, safer, and easier but also cheaper — the price is £13. Submitting a paper form is complicated, time-consuming, and more expensive — the price is £40.
The important point is that you need to pay only once a year, regardless of how many times the company submits. This means that the owner can fill multiple confirmation statements within the 12 paid months to keep the data in the public registry always up to date and relevant.
What Happens If You File a Confirmation Statement Late
According to the UK deadlines for filing a confirmation statement, companies must apply at least once a year. The document must be submitted no later than 14 days after the end of the annual period. The management of the enterprise is responsible for ensuring that the confirmation statement is submitted precisely, on schedule, and in due course.
If for some reason, you did not submit a confirmation statement on time, for example, you forgot to do it, then you need to fill it out as quickly as possible. Filing this document late is a criminal offence, so the sooner you complete the confirmation statement, the more likely you are to avoid critical consequences.
Among the penalties that may be applied to your company are the removal of the organisation from the register and even its dissolution, since the Companies House will consider that it is no longer in business. In fact, this will lead to the liquidation of the company, and its directors and officials may be prosecuted under current UK law.
It should not be underestimated that the information on the submission of documents is publicly available, and any delay or non-compliance can adversely affect the rating and reputation of the business in the corporate environment. In addition, even if you have decided to terminate your organisation, you still must meet all compliance requirements and application obligations if the deadline is set before the business is wound up.
Consider the Hoxton Mix Your Trusted Partner
We at Hoxton Mix are ready to help your company avoid delays and all serious effects. Trust us to submit your confirmation statement, so you can focus on more critical business processes.
Our team will do everything on your behalf — our specialists will fill out the application and submit it on time and according to the established order. And if you need other services for your business, such as a virtual mailbox in London, we provide advanced assistance for companies in the UK.
Also, you can read more about our other tips — using a home address for business in the UK or how to change a company address. 
FAQ
Can I file a confirmation statement myself?
In large enterprises or government organisations, usually, the secretary is responsible for submitting the confirmation statement. One of the directors or another appointed team member files the document in companies with no such position. An accountant can also complete documents. Regardless of who is applying for a confirmation statement on behalf of the company, it is your area of responsibility, so you not only can but rather should fill it out yourself.
How long does it take to file a confirmation statement?
How long it takes to apply a confirmation statement depends on how many changes need to be made. If everything in the company is the same, then confirmation of the relevance of the previously indicated information will take only a few minutes. If, during the last year, there were any changes in the structure of the enterprise, then filling out the confirmation statement will take longer since the changes must be made before the document is submitted. Once the confirmation application is sent to Companies House, it is usually approved within a few hours to one day.
What happens if I don't file a confirmation statement?
Failure to complete or late completion of the UK confirmation statement will have serious effects. Firstly, it is a criminal offence and leads to the fact that the company can be removed from the register or even liquidated, and officials can be held criminally liable. Secondly, there is also a reputational aspect since the information on completing the confirmation statement is publicly available, which means that failure to fulfil obligations will also affect the rating of a business in a corporate environment.
Hand-picked related articles
Our meeting rooms are located at our Paul Street office,
and it's just a few minutes walk from Old Street tube station…
Our Address
3rd Floor, 86-90 Paul Street,London,EC2A 4NEDirections
Opening hours
Monday - Friday 9am - 18.00pm