23 December, 2022
How Government Support Young Businesses and Startups in the UK
Starting your own business takes work. You will likely encounter financial challenges, which can put you off when you start developing ideas and make you want to discontinue your business. It is not the reason to give up, though. Government support for entrepreneurs in the UK offers financial backup that will get your business up and running. This support is a helping hand for starting entrepreneurs stuck with financial issues. The process involves some of your time and dedication to get the picture of how it works, but it is definitely worth trying. Keep on reading to find the best funding opportunities for your startup.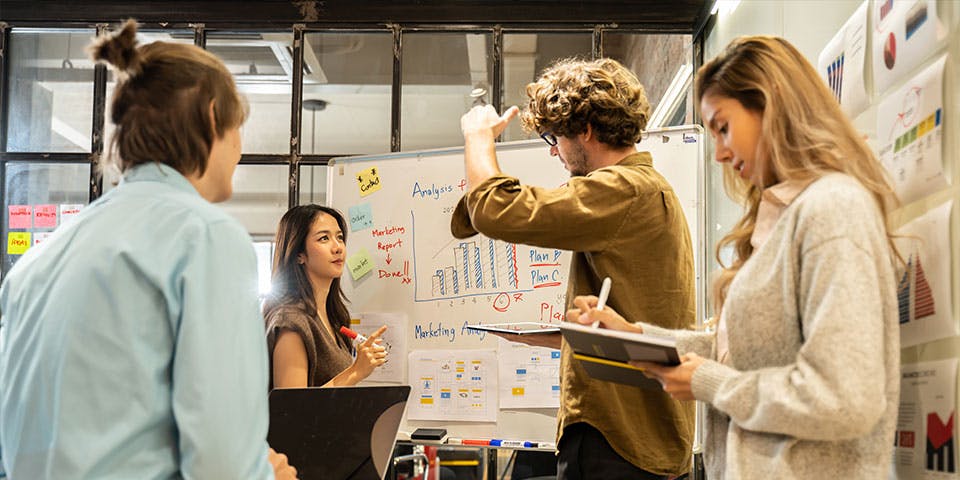 Government Support for Startups and Small Businesses in the UK
The procedure of getting government support for entrepreneurs is baffling and consists of several stages. Different funding options have specific requirements, and so does the application form. If you don't know how to set up a limited company, you might find government funds of great help. Hopefully, some tips here will get you across the best ones and guide you about the system.
Government grants
Small business owners are lucky enough to have a vast choice of available grants they could make good use of. Grants are government-funded programs that provide financial incentives and other necessary means or cost-cutting measures for startups and small companies that use particular resources critical to the growth and operation of their businesses. Although it is hard to resist the temptation of being provided with voluntary financial support, you should keep in mind that the granting organisation expects some worthwhile output in return. 
Where can you inquire about funding? The Scottish Parliament, and the Welsh and Northern Ireland Assemblies provide government support for young businesses in the UK. The proficient Business Finance Support Finder is a good place to start if you register your business there. Among other jumping-off points are Business Grants offered by the Welsh government, Enterprise Ireland, which suits either small or big companies, and more than 600 Funding Opportunities from Scotland.  Go to the official GOV.UK website to familiarize yourself with all services the UK government provides.
Direct grants
The most popular type of funding given by government support for startups in the UK is a direct grant, which is commonly issued to enterprises working on a particular project. This money covers startup expenses like mentoring, equipment acquisition, or expanding into new markets like international exports. Most grants require you to contribute 50% of the grant amount; however, you may be eligible to get up to £500,000 if your industry permits. You also ought to remember it all comes with some rules and regulations, so you are likely to distribute your costs between certain areas.
Soft loans
Not all businesses benefit from direct grants. Luckily, there are more available alternative options on accessing government support for young entrepreneurs.
Soft loans are one of them. Those are akin to grants, except for having lower interest rates. Sometimes there is no interest at all, and you are allowed to extend the repayment plan for longer.  Startups may find more favourable conditions through other lending channels. The government-backed Start Up Loans initiative provides personal loans of up to £25,000 with an interest rate being 6%, a 12-month repayment holiday and a free mentorship.
Tax relief schemes
Small enterprises and startups can profit greatly from UK government support for business, especially tax reliefs and incentives. Once you decide to buy assets that fall under the machinery and equipment category, you may deduct the whole cost of such items from your taxes during the first period. Some programmes are meant to alleviate the pressure of tax payments, such as business rates relief, employment allowance, and corporate tax relief. There are also Enterprise tax reduction zones in the UK, which assist qualifying businesses in establishing themselves. Since the requirements are stringent, checking if you meet them before applying is important. You should also keep in mind that if you sell something after submitting your application, you can be required to pay tax.
Specific entrepreneurial loans
In addition to incentives, UK government support for startups offering various other grants for businesswomen, awards for young entrepreneurs between the ages of 18 and 30, startup funds for entrepreneurs for those above 30, and loans for social entrepreneurs. Small company owners and newly formed enterprises sometimes need to be made aware of their potential eligibility for government grants. Another problem they face is a need for more knowledge about the types of grants and clarity about choosing the right one for their business. 
National business support programmes
Those include Art Council England, Department for international trade, Innovate UK and so on. The UK government's support for business is aimed at organisations working on projects involving creativity and imagination. As well as providing useful coaching to companies, Innovate UK programme supports innovation and technological development to get your startup back on track. The business can run more efficiently operating in the technology and thus will bring your productivity to the upper level. 
How to access government support for a young business
There are a variety of schemes to choose from, but you should meet the general requirements before proceeding. Grants offered by government support for startups are pretty specific, such as creating an enterprise that will help redevelop a local community or creating a new type of business. Your business grant application can be successful if you follow these tips.
Step one — explore grant goals
At this stage, you determine your prospects of submitting a successful application. Look through the grant goals of government support for young entrepreneurs in the UK to understand why this money is being given. It may be manufacturing eco-friendly goods or employing locals. For the best possibility, strictly adhere to the objectives when writing your application. 
Step two — create a strong business strategy 
Just like other financing sources, the grant's awards committee will be looking for one, along with instances of your position and balance sheet if you've already begun trading.
Step three — concentrate on your expenses 
Funds are typically given out to support specific projects, such as the purchase of IT hardware or the installation of broadband. Instead of focusing on the IT equipment itself, use the application to demonstrate how this can enable you to expand your business and aid others.
Step four — start the application process at once 
If you're looking for a grant of £10,000, make sure you have a corresponding total amount of money because most programs will try to equal the amount you're ready to commit. It is better to start your application process as soon as possible. When a program is set in motion, your chances of being awarded are higher. Besides, there is simply more financing accessible and fewer people compete for it.
How The Hoxton Mix Can Help
The most important point while registering a new company in the UK is being attentive to detail. The Hoxton Mix, your reliable assistant, is there to help you find the most impressive business address without overhead expenses. We've already helped thousands of businesses get ahead with their promotions. Get on board and take 10 minutes to set up your own Virtual office!
FAQ
How does government support startups in the UK?
UK Government provides necessary financial aid for businesses that suffer from underfunding or other financial issues. 
How do I access UK government support for entrepreneurs?
Check out what the UK government offers specifically for your enterprise. Options can vary depending on the type of grant and business sector.
What should I consider when registering my own business?
There are many things to take into account, such as the company's name, business strategy, and type of business. But when we talk about startups, the most important thing is privacy. Contact us to get available address options for your business.
Hand-picked related articles
Our meeting rooms are located at our Paul Street office,
and it's just a few minutes walk from Old Street tube station…
Our Address
3rd Floor, 86-90 Paul Street,London,EC2A 4NEDirections
Opening hours
Monday - Friday 9am - 18.00pm