30 June, 2022
Three Indicators That a Virtual Office Is Worth It for Your Business
Virtual offices — do they actually bring advantages to your business, or are you better off using your home address? We can understand your hesitancy: after all, Companies House and HMRC both accept personal addresses for business purposes. Why would you want to spend extra money every month on a fancy-looking address?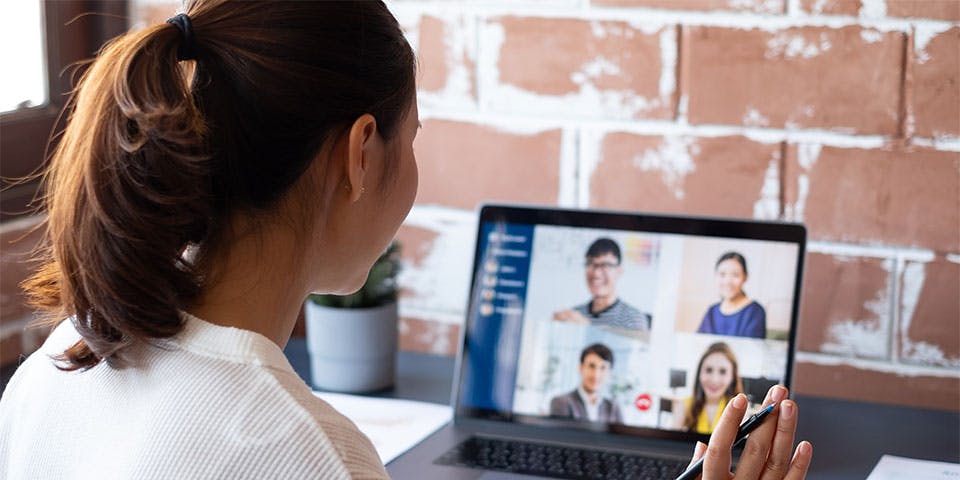 It's a misconception that virtual office addresses are only used to give a business more prestige. While it's certainly a large draw, there are several other reasons why a virtual business address is well worth it for company owners. Perhaps, it would even be worth it for you. 
Read on, and we'll show you three indicators to determine whether a virtual office address is worth it for your business. 
Why Do Companies Decide to Implement Virtual Offices?
Let us run you through a scenario: you've started a business from home, and you decide to register your personal address with Companies House — after all, why pay money for a virtual office when you have a perfectly acceptable home address? 
But you didn't realise that your professional address is now publicly available. Anybody can access the register and see where you live. So, your privacy is sorely impacted: cold callers, government representatives, and clients can show up unexpectedly. 
What's more, business documents will be sent to your home address; this can quickly lead to mishaps if you don't have a stellar mail organisation system.  
So now, your home — your safe, private place — is neither as safe nor as private. At this point, you would likely consider changing your registered company address to a virtual one. 
This is just one scenario; there are numerous reasons why companies look for a virtual office, including:
Large businesses with remote workers can implement a virtual office, which gives employees a more structured working environment. 
"Digital nomads" run businesses while travelling the world. A virtual office enables them to receive correspondence and other communications at a consistent address. Some services, like The Hoxton Mix, offer same-day scanning and email-forwarding of post, allowing them to receive important letters while on the go. 
Entrepreneurs who run businesses from home enjoy the privacy that a virtual office brings. They can register their business under the virtual office address, meaning their home address remains private. 
It reduces legal liability. Some landlords prohibit tenants from conducting business in their residence. There is also Companies House to consider: businesses must be registered under an address located in the same country. So, if somebody lives in Scotland and wants to launch a business in England, they cannot register it under their residential address.  
Are Virtual Offices Worth It?
Now that we've looked at some situations in which a virtual office might be useful in the business world, let's assess whether the convenience is worth the price. 
To establish a baseline, we'll consider the Tide virtual office address cost offered in partnership with The Hoxton Mix. Plans for virtual offices begin at £15 per month + VAT.  
Minimise Costs
Some startup owners choose to pay for a P.O. box instead of a virtual office. However, this is much more expensive; a Royal Mail P.O. Box "Collect" plan costs £35.10 per month. And unlike a virtual office service, there is no option to have your mail scanned and emailed to you. Furthermore, you must pay for at least 3 months upfront, whereas The Hoxton Mix allows you to pay monthly with a convenient cancellation policy. 
So, already, you can see that a virtual address saves you about £20 per month in comparison to a traditional P.O. Box. 
And virtual offices are a far more cost-effective solution than shelling out for a physical office. A physical presence isn't a necessity for many kinds of businesses, as the pandemic has shown us. By opting for a virtual office and setting up a remote work model, you can save up to £1,500 per employee each month. 
Is it worth having a virtual office address if you work from home, though? Well, there are indirect costs associated with working from home; for instance, registering it as a business address could violate your rental agreement, leading to hefty fees and possible eviction. So, in such a case, yes, it is worth having a virtual address. 
Flexibility
Now, this one is tough to measure in financial terms: you'll have to decide whether £15 is worth the flexibility that a virtual office offers. The answer will differ from person to person. But to help you decide, here are some ways that a virtual office offers heightened flexibility: 
If you are a digital nomad, you can receive and read your post from anywhere in the world. And if you live in a different country, you can get a UK-based business address to register with the Companies House. 
You can change your subscription plan as needed. Perhaps some months you need mail forwarding, and in other months, collection is fine. You can downgrade the plan to save money — and, likewise, add on extras like meeting room rentals and a phone number. Virtual offices often have physical locations in which you can reserve rooms; for instance, The Hoxton Mix offers room rentals at £35 per hour. This is far better than shelling out thousands of pounds for office rental costs if you only need to meet with employees and clients a few hours per week. And as you're expanding into new markets, you can scale up your plan as needed.
Privacy
When learning how to start a virtual business, entrepreneurs need to consider the level of privacy they desire. Once again, this indicator isn't easily measured financially; what sort of price do you place on privacy? If you're a private person, then £15 will probably be worth the peace of mind. A professional business address (and phone number, if you select this kind of plan) allows you to keep your personal and business activities separate. 
Things get even more complicated if you have family members who live with you. Then, you are no longer risking your own privacy; you are putting theirs at stake as well. Business owners with children often decide that it is worth having a virtual address. 
The Hoxton Mix Provides a Cost-Effective Solution
After considering the cost savings, flexibility, and privacy that a virtual office can give you, are you ready to start looking for an advantageous service? If so, The Hoxton Mix would be happy to help! We offer a service supplying a virtual office in London, providing businesses with prestigious addresses at affordable prices. 
Whether you're a large business paying thousands of pounds per month for an unnecessary office space — or a small business paying for a P.O. box — we offer all the services you need, starting at only £15 per month. 
What's more, we don't charge setup costs or lock you into a contract. You can get a virtual office in just ten minutes, and you can cancel at any time. We offer various plans, so you're sure to find something that meets your needs: 
Mail Handling and Collection
Mail Handling and Forwarding
Mail Handling, Scanning, and Emailing (plus postal add-on)
Meeting Room Rental
London 020 Local Area Code
Final Thoughts
Virtual offices are becoming more commonplace, largely due to their cost savings, boosted flexibility, and enhanced privacy. If you're ready to relocate to a virtual office, you can do so easily with The Hoxton Mix. We'll even register your address with Companies House for free — just consider us your premium business assistant! 
FAQ
Do virtual offices work?
Yes, virtual offices work. After signing up for a plan, you can register your business under it, receive mail at the address, and choose to collect it or have it delivered. 
Is a virtual office worth it?
A virtual office is more affordable than renting a physical office space or a P.O. box. It also gives you more flexibility and privacy — while not directly measurable monetarily, they might be worth it to you. 
How to decide – is a virtual office worth it or not?
Do you value your privacy? Do you want to keep your personal and business activities separate? Do you often travel or have remote workers? If so, a virtual office may be worth it. 
Hand-picked related articles
Our meeting rooms are located at our Paul Street office,
and it's just a few minutes walk from Old Street tube station…
Our Address
3rd Floor, 86-90 Paul Street,London,EC2A 4NEDirections
Opening hours
Monday - Friday 9am - 18.00pm