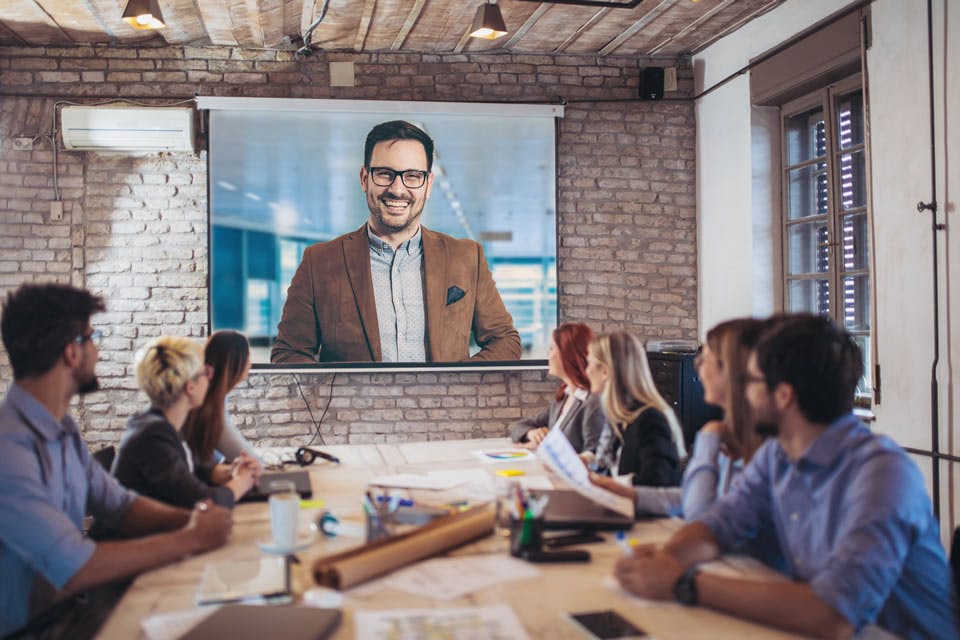 How to Run a Productive Virtual Meeting
Having a virtual meeting is convenient for everyone, but sometimes not entirely effective. We'll give you the best tips to help make every meeting productive.
Virtual meetings are a valuable tool in the modern workplace. They allow colleagues, customers, and suppliers to come together without the financial and time costs of travel.
With more people working from home or co-working spaces, virtual meetings are becoming a normal occurrence. But things can go wrong; whether it's technology, human issues (the nut behind the keyboard) or other factors. We've put together this guide to running effective virtual meetings.
Know Your Purpose
Knowing what you want to get out of a meeting is fundamental to its success. If you're meeting in an office and you want to show someone figures on your laptop you can just flip it around. If they're on the other side of the world, you need some sort of screen sharing tool to do the same thing.
A virtual board meeting might need all members to be able to play presentations from their own computers. If you're brainstorming, a virtual whiteboard will help. Thinking about this ahead of time will help you choose the best technology to meet your needs.
Technology
Although you can stick with voice calls, it helps to make a more personal connection if you choose video instead. Being able to see people's expressions and body language is a big part of communication. Knowing each other better leads to increased performance.
Some of the most popular virtual meeting tools are Skype for Business and GoToMeeting, and they both offer a range of virtual meeting tools. Screen Sharing, allowing others to control the mouse and keyboard, and drawing tools are all useful.
Set the Ground Rules for Virtual Meetings
If webcam meetings are a new thing for your company or team, you will need to make sure everyone knows the virtual meeting etiquette. Here are some suggestions for what to include:
Make sure you can connect in time for the meeting (most options allow you to do a test of webcam/microphone in advance of the start).
Don't mute/switch off your webcam unless completely necessary.
No multi-tasking. Be present in the meeting as you would be for one held in real-life.
Read any material send around ahead of the meeting.
If you are dealing with staff from another country, then English may not be their first language. It's helpful to avoid using slang or other colloquialisms, which can be confusing to non-native speakers.
Sharing Information
Like any other meeting, you should create an agenda for a virtual team meeting. Make sure to circulate it ahead of time. If you have non-native speakers, compile a glossary of technical or other unusual terms which might come up. This can help them prepare and better understand the information presented.
Giving a report or presentation at any meeting can be stressful, but when you're at home or in a shared office space talking to a webcam it feels peculiar. Minimise this kind of one-man show when you can.
Rather than having a 'report back' section in the meeting, ask attendees to send a report to you in advance you can circulate with the other documents. That then turns the focus of each person or team into an opportunity for others to ask questions or offer feedback, which helps team bonding.
Enforce the requirement to read the information sent around before the meeting. It's a matter of being respectful to colleagues who have created and compiled it and makes the meeting run smoothly. Meetings can get derailed if one member learns something that impacts their department during the meeting. Reading the information ahead of time makes sure they can raise inquiries in a timely and professional manner.
Participation
To keep participants active and engaged, assign different roles to each. For example, someone could take notes, someone else can track action points. It can also be useful to appoint someone to play devil's advocate; their role for the meeting is to ask the questions that no one else will. It's a way of ensuring politeness doesn't get in the way of the truth.
Everyone at the meeting should have something to contribute – if they don't, then why are they there? Cross them off the guest list. Make sure that every attendee gets a chance to speak. This can be by consciously going down the list of all who are there and getting their opinions on a matter if it doesn't happen naturally.
It's also worth allowing everyone the chance to talk about what is going well and what they need support with. If problems are openly stated, the rest of the team has a chance to come up with a solution.
Water Cooler
Some of the most valuable discussion happens after in-office meetings. This discussion might come from those who linger in the meeting room to ask more questions or the water cooler chat that happens outside.
There isn't a water cooler for remote employees to go to, but there will be people that linger around after the meeting in the virtual office. You can benefit from this by taking a few minutes at the end of the meeting to make sure you haven't missed anything and no questions have gone unanswered. You'll have to encourage participation from those who are usually reluctant to speak.
Don't neglect the social side. It might be tempting to make the meeting all business, but for distributed teams, this is a valuable change to come together socially, too. Going around the table and asking everyone to share one personal and one business related fact about themselves helps your team find out what they have in common.
Meet Up
Is a virtual meeting your only possibility? Even if your staff all work from home and you don't have a physical location, there is still the potential for hiring a meeting space so that you can talk face to face. Our offices are in a central London location with great transport links, making it possible to schedule a meeting with colleagues, clients, and suppliers from all around the world.
If we can help with virtual meetings or any of our other virtual office services, please get in touch today.